Can you go both ways?
06-27-2014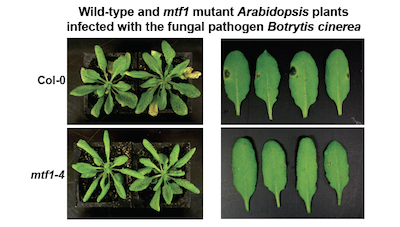 Susceptibility of plants to Agrobacterium-mediated genetic transformation is a heritable trait. Many plant genes and proteins influence transformation susceptibility, and scientists have been able to manipulate plant gene expression to alter susceptibility. The MTF1 gene, encoding a myb-class transcription factor, is a global negative regulator of transformation susceptibility: Decreased expression of MTF1 results in increased transformation. So, would increased expression of MTF1 decrease transformation? Research Associate Nagesh Sardesai, graduate student Kristin Laluk, and Professors Tesfaye Mengiste (Botany and Plant Pathology) and Stanton B. Gelvin recently asked this question. In a paper published in Plant Signaling and Behavior, they overexpressed MTF1 in Arabidopsis and assayed roots of the resulting transgenic plants for transformation susceptibility. Surprisingly, there was no change from that of wild-type plants, indicating that the consequences of misexpression of MTF1 only "go one way". Sardesai et al. also showed that decreased expression of MTF1 has an opposite effect on Arabidopsis susceptibility to the pathogenic fungus Botrytis cinerea: instead of making the plant more susceptible to fungal infection (as was the case with Agrobacterium), decreased MTF1 expression made the plant more resistant to infection. Thus, the level of MTF1 expression has opposite effects on a biotrophic pathogen (Agrobacterium) and a necrotrophic pathogen (Botrytis).
Sardesai, N., Laluk, K., Mengiste, T., and Gelvin, S.B. 2014. The Arabidopsis Myb transcription factor MTF1 is a unidirectional regulator of susceptibility to Agrobacterium. Plant Signaling and Behavior 9:e28983; http://dx.doi.org/10.4161/psb.28983.
Article and photo provided by Stanton Gelvin, Edwin Umbarger Distinguished Professor of Biological Sciences.