Purdue Life Sciences Postdoc Initiative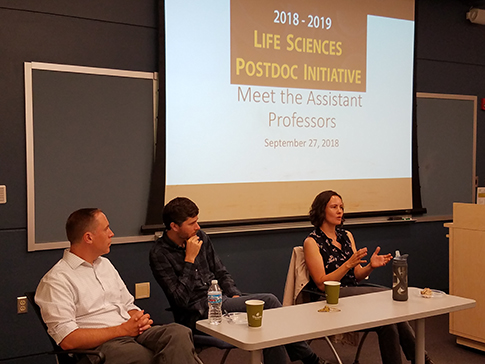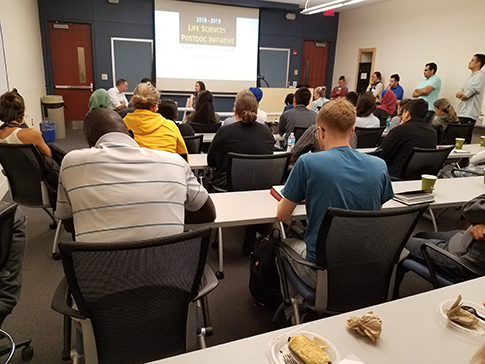 The Purdue Life Sciences Postdoc Initiative is a cross-disciplinary program organized by the Department of Biological Sciences and designed to provide professional development opportunities targeted specifically to postdoctoral research scientists.
Supported by the Colleges of Science, Health and Human Sciences, Pharmacy, Veterinary Medicine, Engineering and Agriculture, as well as the Graduate School at Purdue, the events have included a number of educational and training experiences:
Grant writing workshop specifically geared towards Life Sciences Postdocs with experts from the Office of the Executive Vice President for Research and Partnerships and Biological Sciences faculty. It focused on strategies to identify appropriate funding opportunities, how to write a successful proposal and how to plan for your scientific career.

A targeted introduction to grantsmanship with a detailed workshop on writing a compelling NIH specific aims page, including a written and oral peer review with a mock review panel.

A similar series focused on the National Institutes of Health (NIH) Significance and Innovation portion of a grant.

"Meet the Leaders" events with invited renowned scientists to spend an evening with the postdocs and to tell their career stories and offer advice and encouragement.

A hosted postdoc seminar speaker in the weekly Biological Sciences seminar series, with a follow-up up survey providing constructive feedback.

Life Sciences Postdoc Mini-Symposium, with both oral and poster presentations judged by experienced faculty with awards for best poster and best 20 minute research talk.
For more information, contact Dr. Andrea Kasinski or Dr. Alex Chubykin. Access information for pending events.