Caleb Trujillo is among 5 Students Who are looking to use a Purdue education to move the world forward
03-05-2014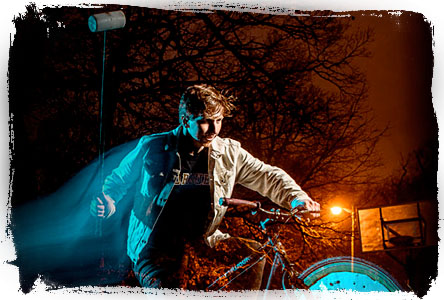 As one of the first students in Purdue's burgeoning biology education graduate program, Caleb Trujillo is leading the pack in a growing discipline that looks at how people learn biology. He investigates how biologists explain cellular and molecular mechanisms in the hopes of better understanding how such knowledge is learned. He is, in a way, taking his frustrations out in graduate school.
"Molecular biology is a difficult subject to learn and a lot of what I'm doing now is driven by that frustration as an undergrad," says Caleb. "How can we better teach the next generations of scientists?"
Bridging the Gap
The need for education reform in STEM disciplines is critical at all levels, from K-12 to post-secondary, and Purdue's College of Science hopes to cultivate a reputation in biology education to rival the best graduate programs in the nation.
"Caleb is the first student that we recruited on a doctoral level," says Nancy Pelaez, associate professor of biological sciences. "He has always maintained a balance between his training in education and his training in biology, and he successfully mentors grad and undergrad students in both disciplines to bridge the gap between these two fields."
Patterns of Knowledge
Along with Pelaez and other grad students, Caleb helped start the Purdue International Biology Education Research Group (PIBERG) as well as the Discipline-Based Education Research (DBER) group.
"Experts and novices differ in how they process, retrieve, and manipulate information. However, expertise is specific to a given domain," he says. "My research is guided by two questions. First, what patterns exist when expert biologists provide mechanistic explanations of cells? Second, how can we teach students to construct explanations as an expert would?"
Pedal Power
In 2010, Caleb — a Colorado native who grew up mountain biking — came across a group of students on a campus basketball court playing a game that looked like a combination of his two favorite sports, biking and hockey. It was a bike polo match — players ride bicycles instead of horses and wield polo mallets instead of sticks.
"I went up to them and said 'What do you call this?'" Caleb recalls. "They told me to try it out and I really liked it. It was challenging." He has since become a leader on the court and one of the top local players. Caleb commutes to campus via pedal power, too, and helped establish Bicycle Lafayette as an advocacy organization for bicycle safety and culture.
Cultures of Learning
Caleb also is a multi-year board member of Purdue's chapter of the Society for the Advancement of Chicanos and Native Americans in Science (SACNAS), which he now serves as vice president. The group was recently honored with the Outstanding Leadership Award from the national organization.
"I had many friends participating in the organization, and I was excited to learn more about my heritage," he says. "Through SACNAS and the Latino Cultural Center, I'm able to better understand my family and my cultural identity."