The Herpetology Revolution: Pioneering Women in Science
10-24-2023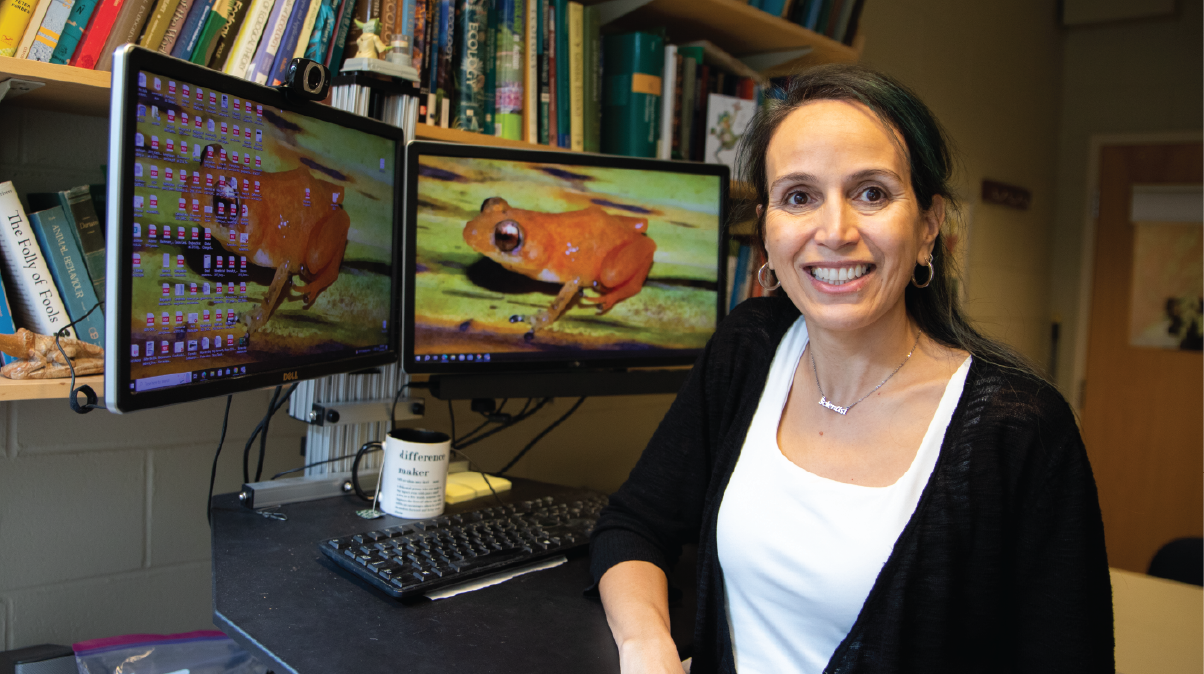 When Ximena Bernal, professor of biological sciences at Purdue's College of Science began her academic journey she was in her native Colombia. Her specialty is herpetology – the study of reptiles and amphibians and since her home country has the second highest biological diversity per square mile of frog species, it seemed the perfect place to study. Little did she know, she would need to immigrate to the U.S to follow her dreams.
Why would a herpetologist leave an area teeming with the very species she studies? These types of life changes are always complex, but the root of this one lies in the fact that, worldwide, women are still very underrepresented in the sciences. Herpetology is especially unbalanced, with about 70% male, 30% female representation.
Bernal reports that the challenge of staying safe while doing fieldwork in an area riddled with violence and social conflict was difficult enough. Add in the frustrations of a scientific environment dominated by culturally-ingrained sexism ('machismo') that severely limited her academic prospects, and you have a scientist seeking change. When she was a student, she accepted an internship in Panama with the Smithsonian Tropical Research Institute (STRI), which led her PhD and ultimately to find her way to Purdue.
When fellow researchers approached her about a project that hoped to encourage young women to pursue herpetology, Bernal was immediately interested. They asked her to write a chapter for their book Women in Herpetology, a compilation of captivating stories from herpetologists working in diverse fields such as conservation, biodiversity, ecotoxicology, and education. It highlights their unique challenges, including limited resources and mentorship opportunities, as well as the joys and rewards they have found through their work.
The book is led by The Global Women in Herpetology project, founded by Dr. Sinlan Poo from Taiwan, Dr. Itzue Caviedes-Solis from Mexico, and Dr. Umilaela Arifin from Indonesia. All profits from sales of the book will be used to establish a scholarship for students in underrepresented regions to attend international herpetological conferences to present their research.
"We aim to give our first scholarships to students to attend the World Congress of Herpetology in 2024", says Arifin.
"Attending a conference can be a life-changing experience for young researchers," says Bernal. "It is an opportunity to not only share your science and learn about other projects, but it can also connect you with other researchers who share your passion and inspire you. Going to my first scientific conference, for example, made me realize that there could be a future studying frogs."
"We strongly believe that every voice counts and every story matters. The road has been bumpy and our careers and lives have moments of pain and challenges. But in the midst of it all, we have also found joy." Caviedes-Solis says.
Poo adds "We came together thanks to our love for amphibians and reptiles.  We hope that people can flip through the pages and immerse themselves in the rich and diverse landscapes the authors are describing and the remarkable illustrations these artists have created."
For more information about Women in Herpetology: 50 Stories from Around the World and the Global Women in Herpetology Project, please visit www.womeninherpetology.com or contact womeninherpetology@gmail.com.
Written by Alisha Referda, Communications Specialist