Illuminating Hope: Beichen Wang's Vision for a Brighter Future
10-30-2023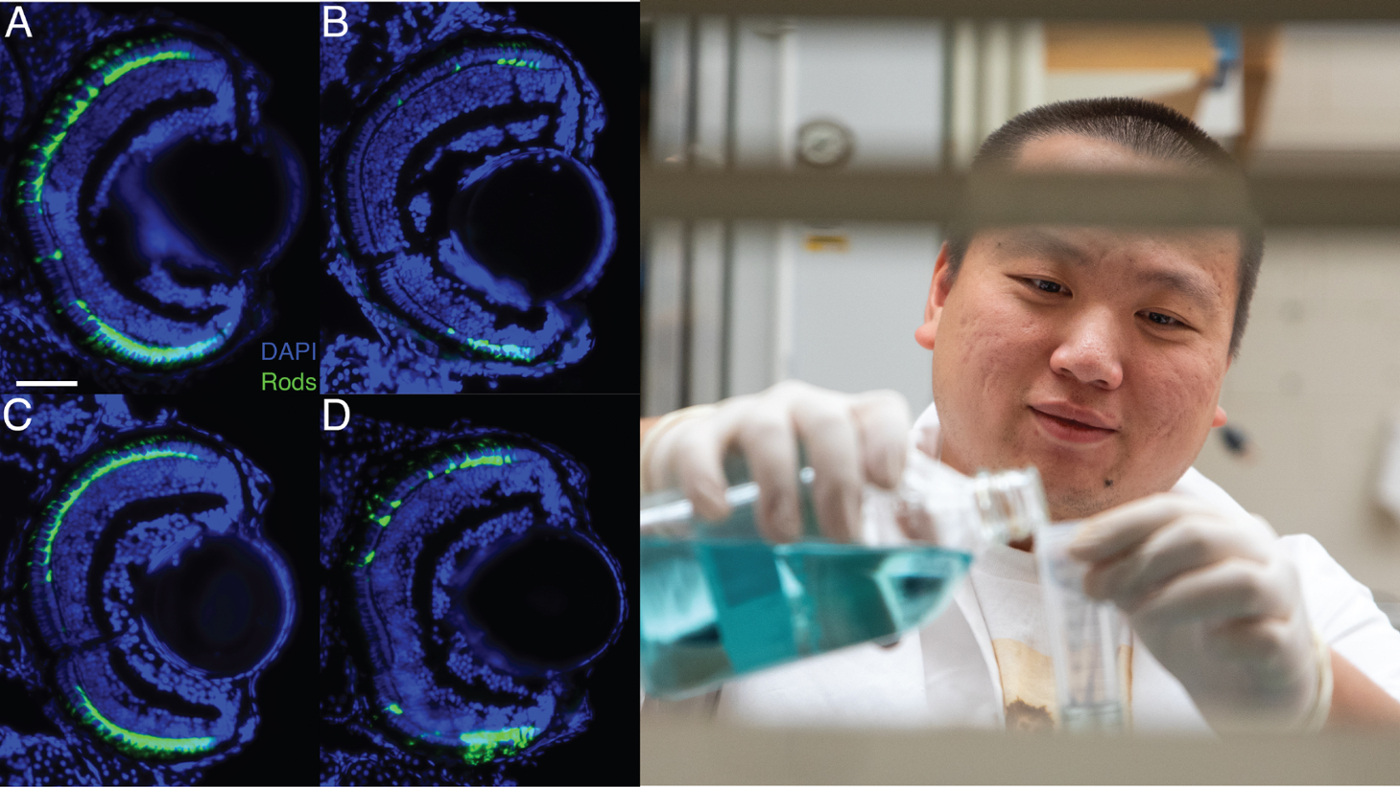 In the realm of scientific exploration at Purdue University's College of Science, Beichen Wang, a graduate student in the Department of Biological Sciences, is casting a new light on inherited retinal degeneration. Let's dive into Wang's research journey and the innovative approach he's championing to provide affordable solutions for those affected by this sight-stealing condition.
Exploring the World of Inherited Retinal Degeneration
Inherited retinal degeneration is a genetic anomaly that profoundly affects an individual's vision. Wang's research focuses on this condition, which some people are born with and which gradually diminishes their ability to see. While many researchers approach this challenge by attempting to fix the underlying genetic mutations, Wang and his colleagues are taking an alternative path, one that prioritizes cost-effective solutions for patients.
The Zebrafish Connection
To investigate potential treatments for inherited retinal degeneration, Wang and his team employ an unexpected ally in their research – the zebrafish. These tiny aquatic creatures serve as a remarkably efficient model for studying the condition. The advantage? Medications can be administered by simply adding them to the fish tank water, where they are quickly absorbed into the zebrafish's system.
One of the most intriguing aspects of their study involves observing the behavior of these zebrafish when the lights are turned on and off. Typically, fish with normal vision react with frenetic movements when plunged into darkness. However, those with retinal degeneration barely respond. After administering one potential drug treatment, the researchers have witnessed a remarkable transformation in the behavior of the fish with vision issues, as they start to respond to the stimulus of changing light conditions. 
A Ray of Hope in a Sea of Drugs
Among the thousands of drugs screened in their pursuit of a cost-effective treatment for inherited retinal degeneration, a single compound has emerged as a beacon of promise. It's this specific drug that has captivated Wang and his team by initiating a remarkable transformation in the behavior of zebrafish with vision issues, as they begin to respond to the stimulus of changing light conditions.
This promising drug represents a potential breakthrough in the quest for a solution. Furthermore, another critical facet of their study involves the examination of the cross-section of the zebrafish's eyes. In individuals with normal vision, the eyes contain an abundance of photosensing cells, critical for sight. However, animals with diminished vision have significantly fewer of these cells. Following drug treatments, researchers scrutinize the eyes to determine whether there has been an increase in these vital cells, providing hope for potential treatment success
A Personal Journey of Dedication
Wang's academic journey took a unique trajectory. During his undergraduate years, his passion lay in neurobiology, with a specific focus on degenerative brain diseases. However, upon joining Purdue, he embarked on a rotation through different labs, ultimately discovering a mentor in Dr. Yuk Fai Leung who would profoundly influence his path.
Leung's mentorship and the research opportunities provided by the lab led Wang to shift his focus from brain degeneration to eye degeneration. His dedication to research and the prospect of making a tangible impact on people's lives have remained constant. Wang's unique perspective underscores the power of mentorship, as he feels valued and treated as an equal in Leung's lab.
In his journey from neurobiology to the study of inherited retinal degeneration, Wang has emerged as a beacon of hope. His research not only sheds light on innovative ways to address vision problems but also highlights the significance of mentorship in shaping the scientists of tomorrow.
Beichen Wang's story is one of persistence, innovation, and a commitment to improving the lives of those affected by inherited retinal degeneration. As he continues his groundbreaking work at Purdue University, he represents a brighter future for all those whose vision has been clouded by this debilitating condition.
Written by Alisha Referda, Communications Specialist