Bridging Science and Outreach for a Brighter Future
11-13-2023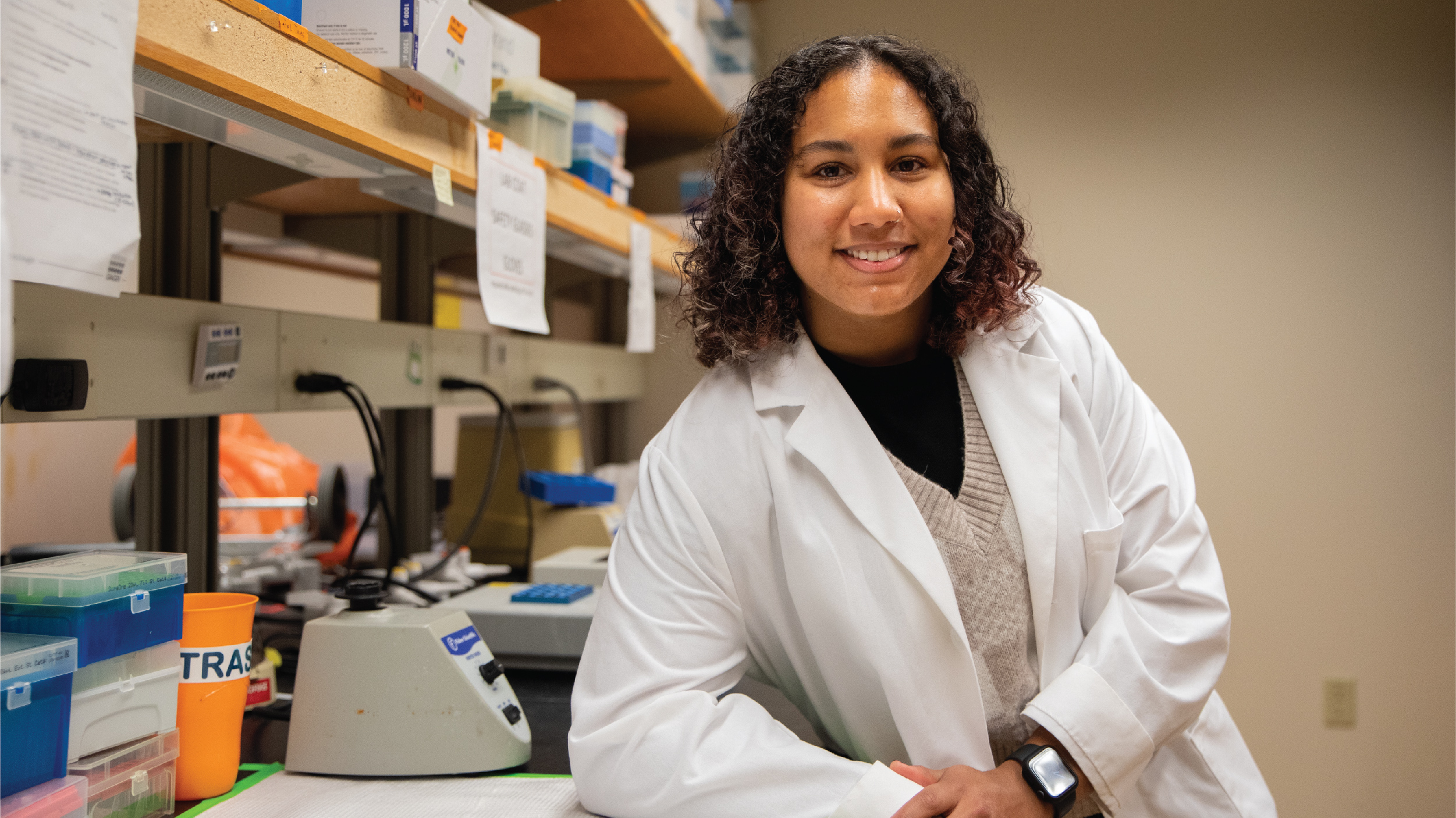 West Lafayette, Indiana – Paradyse Blackwood, a graduate student in Purdue University's College of Science, has made a significant impact in the field of ecology through their groundbreaking research and unwavering commitment to scientific outreach. With a fervor for both scientific innovation and community engagement, Blackwood is not only advancing knowledge in the field but also inspiring others to follow in their footsteps.
Hailing from New York, Blackwood was initially drawn to Purdue by the cutting-edge research being conducted. What convinced them to stay, however, was the mentorship of Dr. Cat Searle, an advisor who treated them with the respect and support they needed to thrive.
Blackwood's published research delves into the impact of human-generated pollution on ecosystems. Specifically, they focused on diseases in freshwater species, such as amphibians and water crustaceans (daphnia). Their work explored how native species persist during disease epidemics and whether the introduction of invasive species affects the outcome. This research is invaluable in understanding the intricate relationships between pollution, disease, and biodiversity.
Blackwood is the recipient of a prestigious fellowship from the National Science Foundation (NSF) to investigate how variable temperatures and road salt pollution affect disease in tadpoles. This research, which will be published soon, sheds light on the consequences of climate change and increased road salt usage, revealing how these factors impact tadpole morphology, immune systems, and development.
One of the remarkable findings of Blackwood's research is the relationship between tadpoles' salt concentrations and their susceptibility to various parasites. Although both parasites can be lethal, tadpoles with higher salt concentrations are less likely to be infected by trematodes but more susceptible to infection by Batrachochytrium dendrobatidis (Bd), a dangerous disease that threatens more than half of the world's amphibians. This discovery has broad implications for understanding the ecological effects of human activities on aquatic ecosystems.
While Blackwood's research is innovative, their passion for outreach is equally remarkable. During an internship at the Carnegie Museum of Natural History in Pittsburgh, Blackwood focused on scientific communication and community engagement. Their experience affirmed the belief that outreach is instrumental in inspiring future scientists. Blackwood worked closely with Dr. Jen Sheridan, the curator of amphibians and reptiles at the museum, to understand the importance of museum collections and how to convey scientific concepts effectively.
The internship also provided a valuable perspective shift for Blackwood. They began to appreciate the significance of body size measurements in the context of changing environments and climates. Their work with museum specimens, some dating back centuries, highlighted the importance of preserving scientific collections for research without the need to collect or euthanize live specimens.
Blackwood's experience at the Carnegie Museum also had a significant impact on their confidence as a scientist. The internship allowed them to connect with a diverse group of individuals, offering encouragement, support, and recognition of their abilities. It was a powerful reminder that representation in science matters. As an undergraduate, Blackwood had faced doubts about their potential, but examples like Dr. Tyrone Hayes, a pioneering black scientist who studies frogs, and a supportive undergrad advisor, who was their first female teacher of color, reinforced their belief in themselves.
Reflecting on their journey, Blackwood now feels empowered to pass on that confidence, especially to young people of color aspiring to enter the scientific field. They believe in the importance of fostering a mindset that defies adversity and continues to pursue excellence, even when faced with opposition.
Paradyse Blackwood's story is not only one of scientific achievement but also a testament to the transformative power of mentorship, representation, and the relentless pursuit of knowledge. Their dedication to research and outreach is an inspiration for all, proving that barriers can be overcome, and diversity is an asset to the scientific community. In a world that often questions the capabilities of underrepresented individuals, Blackwood stands as a living testament to the fact that anyone can reach for the stars and make the next giant leap.
Written by Alisha Referda, Communications Specialist