Purdue University researchers aim to develop an advanced online tool to protect the US from invasive agricultural pests
08-31-2022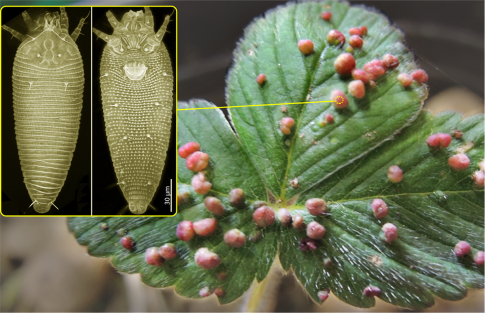 Purdue researchers are to start a project in collaboration with the United States Department of Agriculture (USDA), Plant Protection and Quarantine, Science and Technology  Identification Technology Program (ITP). The goal of this two-year project is to develop an easy-to-use online tool to detect and identify mite pests of agricultural crops for non-experts.
Plants host a diverse and abundant community of mites, with thousands of species distributed globally, and millions of individuals per plant. Although some of the species are commensal or mutualistic to the plants, some are major pests.  Every year, US agriculture suffers great losses from mite pest attacks, with invasive species causing major outbreaks. However, mites are microscopic and are not easily identified, except by trained specialists. Examples of harmful pests are spider mites, wheat curl mites, gall mites, and flat mites, including the Red Palm Mite Raoliela indica. These plant-feeding mites can also 'hijack' the plant metabolic pathways to induce galls and serve as vectors to transmit dangerous plant-pathogenic microorganisms.  Examples of beneficial mites are anystid and phytoseiid mites, which are voracious predators that may naturally protect their host plants from plant-feeding pests. Phytoseiids are widely used for biocontrol applications to replace synthetic pesticides (organic agriculture).  Between the 'bad' and the 'good' is a large assemblage of commensal mites which simply use plants as their living environment. These mites, nevertheless, need to be accurately  identified in imported plants at the border to be sure of their non-pest status.
This collaborative project will focus on foreign pests that can be potentially harmful to US agriculture, but it will also provide comprehensive data on any other mites that can be found on plants. This easy-to-use online tool will primarily serve Plant Protection and Quarantine personnel at the US border, who are required to quickly and accurately identify unknown pests. However, it also serves members of the general public, such as extension specialists, plant growers, gardeners, and plant enthusiasts worldwide.
            The project leaders at Purdue are Qixin He and Pavel Klimov. A highly qualified international student will be trained as well as part of this project.   Julia Scher and Amanda Redford will be participating in the project on the USDA side.
Image. The mite Fragariocoptes setiger forming galls on leaves of the creamy strawberry Fragaria viridis. Credit: Pavel Klimov, Philipp Chetverikov. https://www.nature.com/articles/s41598-022-07535-3. Creative Commons Attribution 4.0 International License;  to view a copy of this license, visit http://creativecommons.org/licenses/by/4.0/.