Largest worldwide Tourette syndrome genetics and neuroimaging study also promises insight into related disorders
05-16-2022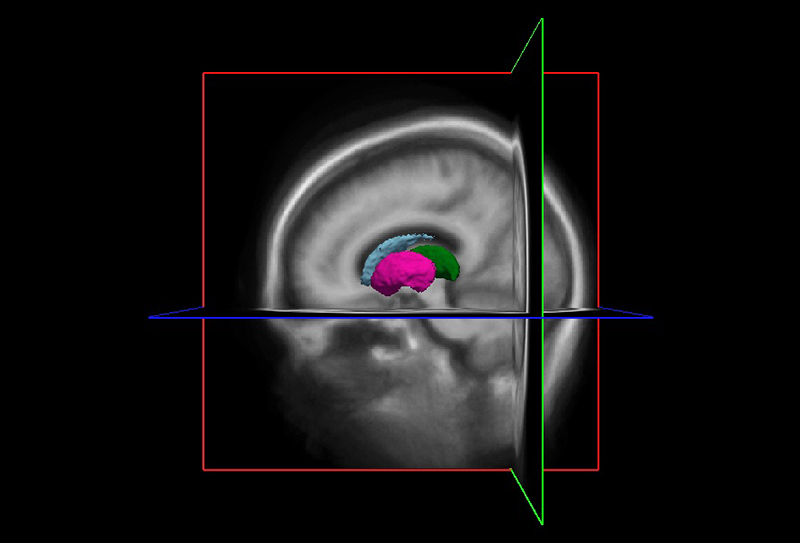 Researchers have been working to find a cause and cure for Tourette syndrome since the neurological disorder was first documented in 1885. Purdue University's progress in that work in recent years is now being rewarded with a $2.6 million grant from the National Institute of Mental Health for further TS research.
Peristera Paschou, professor of biological sciences and associate dean for graduate education and strategic initiatives for the College of Science, is the principal investigator for the new grant. She already is leading several worldwide TS research collaborations and is supported by the National Science Foundation, National Institutes of Health and the National Institute for Neurological Disorders and Stroke. In 2017, she was a senior co-author on a groundbreaking international study that became the first in the world to identify risk genes for TS. She then led a large-scale study in 2021 that shed light on the common genetic basis of TS and related neurodevelopmental disorders.
The new NIMH grant will allow her to oversee the largest neuroimaging and genetics studies for TS to date. She will coordinate the work of geneticists, neurologists, psychiatrists, child psychiatrists, brain-imaging experts, computer scientists and statisticians in 18 sites in nine countries. The study will pool, analyze and harmonize global genetic and brain-MRI data to shed greater light on TS neurobiology and also identify biomarkers that could help tailor individualized treatment approaches for patients. The effort builds on past progress by the worldwide ENIGMA Consortium (Enhancing Neuroimaging Genetics through Meta-analysis). Leading members of the team include co-investigators at the University of Southern California, professors Paul Thompson and Neda Jahanshad, as well as Kevin Black at Washington University in St. Louis.
TS is estimated to affect 0.5-1% of the world's population. Characterized by tics — sudden, repetitive, unwanted movements or vocal sounds — it typically begins in childhood. TS also has highly common comorbidities — conditions that coexist with it to differing degrees — in 90% of its patients. These conditions include obsessive compulsive disorder, attention deficit hyperactivity disorder, autism spectrum disorders, major depressive disorder and anxiety disorders.
Paschou is hopeful that her findings can one day improve treatments for TS and its related disorders: "What we and others have shown very recently is that this very high comorbidity may, in fact, be due to a common genetic cause. So, some of the same genes play a role and drive all of these symptoms. Understanding Tourette syndrome will also help us understand other disorders that lie across the so-called impulsivity-compulsivity spectrum of phenotypes."
Paschou began studying TS more than 20 years ago in her postdoctoral work at Yale University, where she said she was intrigued by the disorder's extreme complexity.
"I realized very early on that it's very important to bring together many different labs and investigators to understand the cause," she said.
To that end, Paschou intends to make the findings of her current study inform future work by creating a resource for scientists everywhere.
"When the study is complete, there will be a process for researchers to request access to the collected datasets and our summary statistics," Paschou said. "The dataset will be continuously updated."
Although TS has no known definitive cause, it is attributed to the interaction of multiple gene variations and environmental factors. Current treatments involve behavioral therapy or drug therapy, or a combination thereof. They often fall short because they frequently do not eliminate the tics or they cause unwanted side effects.
Paschou knows what success would look like if this five-year research initiative succeeds.
"We would have a much clearer picture about which parts of the brain play a role in the onset of symptoms of Tourette. And we would have a clearer picture about what genes drive the brain abnormalities that underlie this disorder and its comorbidities."
Paschou also is quick to point out that this new research endeavor and her past TS work has had a singular purpose.
"All of this genetic work has the goal to help uncover targets for potential therapies, and also to help drive diagnosis and management for any of these related disorders," she said. "Everything that we do is driven by the goal to eventually increase quality of life for patients and their families. We do all of this work for them."
About Purdue University
Purdue University is a top public research institution developing practical solutions to today's toughest challenges. Ranked in each of the last four years as one of the 10 Most Innovative universities in the United States by U.S. News & World Report, Purdue delivers world-changing research and out-of-this-world discovery. Committed to hands-on and online, real-world learning, Purdue offers a transformative education to all. Committed to affordability and accessibility, Purdue has frozen tuition and most fees at 2012-13 levels, enabling more students than ever to graduate debt-free. See how Purdue never stops in the persistent pursuit of the next giant leap at https://stories.purdue.edu
Writer: Amy Raley, araley@purdue.edu 
Media contact: Brittany Steff, bsteff@purdue.edu 
Source: Peristera Paschou, ppaschou@purdue.edu