An invasive species is most successful with high resources and infectious disease
04-17-2019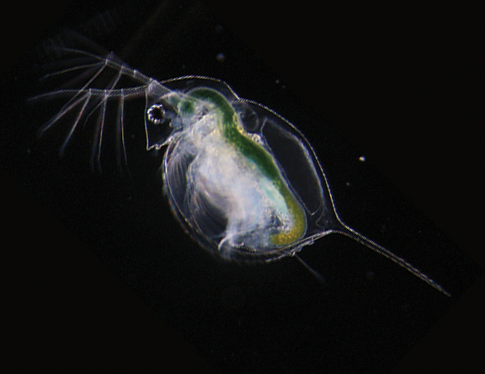 Invasive species are a major concern due to their negative effects on native communities. What determines whether or not an invasive species can establish in a new environment? Previous studies have shown that both infectious diseases and resource availability can affect whether or not an invasive species is successful in a new location. However, little is known about how these two variable interact to affect invasions.
Using a series of laboratory experiments, members of the Searle lab tested the effects of resource availability and infectious disease on the invasion success of a freshwater crustacean (Daphnia lumholtzi). This species has invaded lakes and reservoirs throughout the United States and has many impacts on native communities.
They found that the invasive species reached its highest densities when there was a combination of high resources and infectious disease, but not for each of these conditions alone. This occurred because high resources initially led to higher densities of native species, fueling large epidemics in the presence of a pathogen. These epidemics caused native populations to crash, allowing the invasive species to establish.
This study has implications for water quality, where nutrient runoff may lead to larger epidemics in native populations and higher rates of invasion. Additionally, in this system, communities with both high resources and infectious disease may be the most vulnerable to invasion.
Authors on this study include Biological Sciences assistant professor Dr. Catherine Searle, three former Biological Sciences undergraduate students (Baylie Hochstedler, Juliana Ilmain, and Maggie Wigren) and former ESE master's student, Abigail Merrick.
Full citation: Searle, C.L., Hochstedler, B.R., Merrick, A.M., Ilmain, J.K., and Wigren, M.A. (2018). High resources and infectious disease facilitate invasion by a freshwater crustacean. Oecologia 188: 571-581 
Contact: Catherine Searle, https://www.bio.purdue.edu/lab/searle