Conservation and disease in tropical amphibians
08-30-2019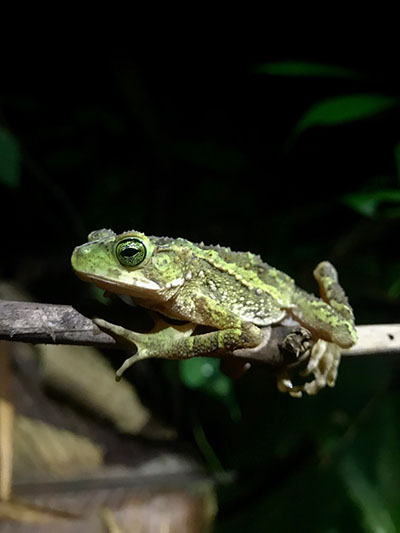 The fungal pathogen, Batrachochytrium dendrobatidis (Bd) has been associated with severe declines and extinctions of amphibians around the world. In Costa Rica, these declines primarily occurred during the 1980s and 1990s. However, the current impact of Bd infection on amphibian species in Costa Rica is unknown.
A recent study from the Searle lab aimed to update the list of amphibian species in Costa Rica and evaluate the prevalence and infection intensity of Bd. They first updated the list of species in Costa Rica which now numbers 215 amphibians. Then, they evaluated incidence and severity of Bd infection across the country and found that infection was common, but infection intensity was below thresholds associated with mortality. The prevalence of infection varied across regions and species, so these findings can be used to prioritize regions and taxonomic groups to target for conservation efforts. 
Authors on this study include three members of the Department of Biological Sciences: Dr. Catherine Searle (Assistant Professor), Hector Zumbado-Ulate (Ph.D. candidate), and Kiersten Nelson (undergraduate student).
Full citation: H. Zumbado-Ulate, K.N. Nelson, A. Garcia-Rodriguez, G. Chaves, E. Arias, F. Bolanos, S.M. Whitfield, and C.L. Searle (2019). Endemic infection of Batrachochytrium dendrobatidis in Costa Rica: implications for amphibian conservation at regional and species level. Diversity 11:129.
Link to article: https://www.mdpi.com/1424-2818/11/8/129
Contact: Catherine Searle: https://www.bio.purdue.edu/lab/searle