Mattoo lab develops a new cell biology tool called CryoAPEX
04-12-2019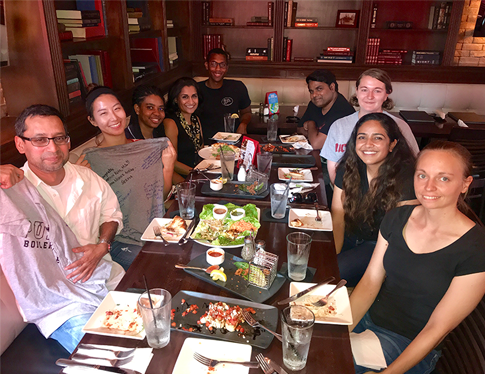 Localization of membrane-bound proteins by electron microscopy (EM) has been challenging because current methods of sample processing damage membrane integrity. The Mattoo lab has developed a new EM method, termed CryoAPEX, that couples chemical fixation and high-pressure freezing of cells with peroxidase tagging (APEX) to allow precise localization of membrane proteins in the context of a well preserved sub-cellular architecture. This information can further be used to build a 3D image of the protein inside the cell. Importantly, CryoAPEX can be applied to cells grown in tissue culture, thus making this technique more accessible to the general scientific community.  
See link for details: 
http://jcs.biologists.org/content/132/6/jcs222315
Legend for accompanying figure:
A 3D model of the endoplasmic reticulum (in blue) displaying density associated with transiently expressed APEX2-tagged human Fic protein, HYPE/FicD (in gold). The model was generated from an electron tomogram of a cell processed by Cryo-APEX, a technique that allows staining of membrane proteins without damaging membrane ultrastructure. Virtual sections of the tomogram are presented in the background. Cryo-APEX can be widely applied to cells grown in tissue culture.