Dr. Fekete Receives Research Award
03-15-2019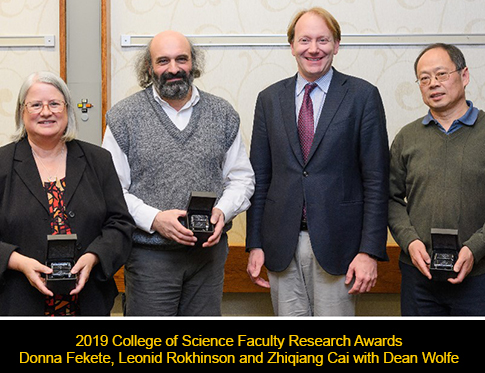 2019 College of Science Faculty Research Award recipients Donna Fekete (Biological Sciences), Leonid Rokhinson (Physics and Astronomy) and Zhiqiang Cai (Mathematics) were honored on February 21, where more than 100 colleagues and students gathered to celebrate their accomplishments and hear them talk about their research.
The College of Science Research Award was created to honor the research accomplishments of some of our very best tenured faculty.  It carries with it a monetary award of $1000.
The awards committee recognized Dr. Fekete's investigations of the molecular genetics of inner development and her groundbreaking research that fundamentally changes the way we think about the developmental pathways controlling inner ear development and hearing loss. 
Congratulations for this wonderful recognition!