Konieczny Lab has developed a new strategy to induce terminal differentiation of pancreatic cancer cells.
05-22-2018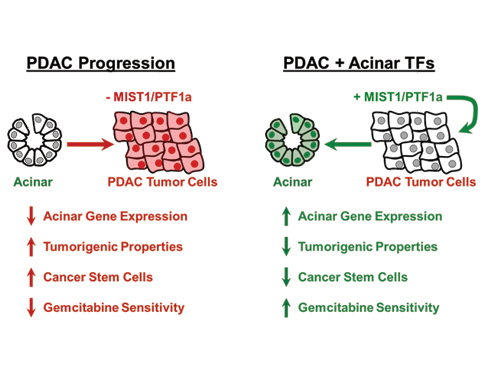 The Konieczny Lab has developed a new strategy to induce pancreatic cancer cells to revert back to a quiescent, acinar cell differentiated state by altering the transcription networks of the cells.  Studies by Brad Jakubison, Patrick Schweickert, and Yi Yang showed that induced expression of two pancreas-specific transcription factors (MIST1, PTF1a) in pancreatic ductal adenocarcinoma (PDAC) cells can (i) re-establish the transcriptional program of differentiated pancreatic acinar cells, (ii) activate expression of genes associated with a differentiated cell phenotype, and (iii) simultaneously reduce tumor cell properties.  Importantly, induction of PTF1a in PDAC also led to repression of key ABC efflux transporters that results in heightened sensitivity to gemcitabine, the frontline defense chemotherapeutic agent used to treat the disease.  Thus, activation of previously silenced pancreatic transcription factors offers unique opportunities to develop novel therapeutic intervention strategies for this deadly disease.
Jakubison, B.L., Schweickert, P.G., Moser, S.E., Yang, Y., Gao, H., Scully, K., Itkin-Ansari, P., Liu, Y., and Konieczny, S.F.
Molecular Oncology (2018) doi: 10.1002/1878-0261.12314. [Epub ahead of print]