2018 Yeunkyung Woo Achieve Excellance Travel Award Recipients
07-30-2018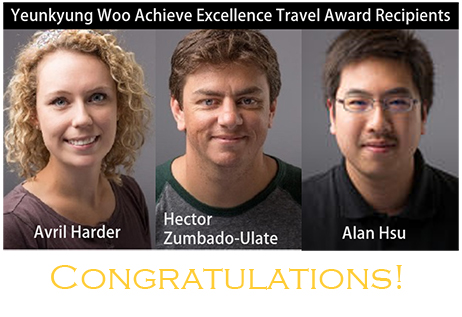 The Yeunkyung Woo Achieve Excellence Travel Scholarship Fund was created in 2002 by the Biological Sciences Department in memory of Yeunkyung Woo, a talented, energetic and well-loved PhD student. Yeunkyung's expressed desire was to get the opportunity to present her work at major scientific meetings, and this fund provides travel awards to help our current graduate students do just that.
Arvil Harder will be presenting her research "Impacts of thiamine deficiency on metabolic pathways and genetic influences on disease outcomes in Atlantic salmon (Salmo salar)" at the annual meeting of the American Fisheries Society in Atlantic City, NJ next month (Aug. 19-23).
Hector Zumbado-Ulate will be using the award to travel to the Amphibian Disease annual meeting at Arizona State University this October. There, he will present the results of his research on disease dynamics of two critically endangered Costa Rican frogs. 
Alan Hsu will be presenting his recent work entitled "Identification and characterization of microRNAs that moderate acute neutrophilic migration and inflammation" at the Directed cell migration-Gordon Research Conference early next year. (Jan 20-25, 2019 in Galveston, TX, US)
Congratulations to Avril Harder, Hector Zumberto-Ulate and Alan Hsu!