Irwin Tessman Endowment for Biological Sciences
05-01-2018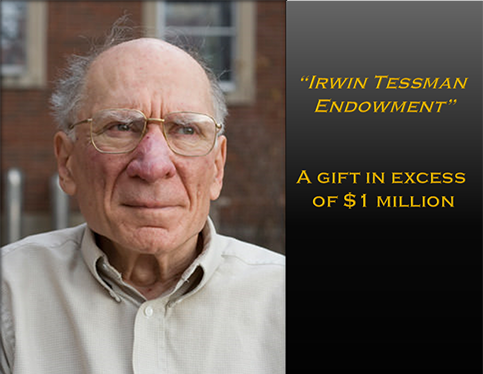 Dear Colleagues,
Dean Wolfe and I are delighted to announce that Dr. Irwin Tessman has gifted the Department and the College an endowment of over a million dollars through his estate.
Dr. Tessman received his PhD degree in Physics from Yale University in 1954 and did postdoctoral research in Biophysics at Cornell University.  He continued his research at MIT before joining the Purdue Biological Sciences faculty in 1959 as an Associate Professor, being promoted to Full Professor in 1962.  After a short stint at the University of California, Irwin and his wife, Ethyl, returned to Purdue.
Dr. Tessman was widely recognized as a scientific leader in studying the effects of radiation-induced mutations on bacterial cells and viruses.  His research was essential to our fundamental understanding of living cells and how genetics operate in cells and viruses.  His was an extremely distinguished academician in both research and in education where his courses were demanding, interesting, and impactful to countless students who came through our program.
The Tessmans' generosity, as well as their trust in contributing to our Department and to the College, has created a legacy-producing fund which will benefit our students, faculty, and staff, research facilities, and educational programs.
We are deeply grateful to Irwin and Ethyl for the many years they invested in our Department, and for their plans, now realized, to positively impact Biological Sciences by their foresight in establishing this new endowed fund.
Yours,
Stephen F. Konieczny