"nox2/cybb Deficiency Affects Zebrafish Retinotectal Connectivity"
07-13-2018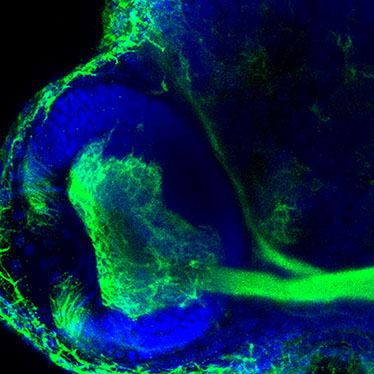 Reactive oxygen species (ROS) are well known for their damaging effects during oxidative stress, aging, and degenerative diseases when being abundant. However, there is emerging evidence that physiological amounts of ROS are critical for controlling a number of cellular processes including cell differentiation, proliferation, and motility. In a recent study, the Suter lab has demonstrated that the activity of an ROS-producing enzyme, NADPH oxidase 2 (Nox2) is critical for establishing neuronal connections between the eye and the brain of developing zebrafish embryos. Treating the embryos with a drug, celastrol, that inhibits Nox activity or generating zebrafish mutants that lack the functional Nox2 enzyme by CRISPR/Cas9, caused a number of defects in the retina as well as in the part of the brain that gets innervated by retinal ganglion cells. For example, the ganglion cell layer in the retina was wider and disorganized in the fish embryos that lack Nox activity. These results suggest that Nox2 is critical for neuronal development and has important implications for human health. The group is currently working on testing the role of ROS in axon guidance.
The study was recently published in The Journal of Neuroscience.
Researchers from the Suter, Deng, and Leung labs in the Department of Biological Sciences; Purdue's Institute for Integrative Neuroscience; Institute of Inflammation, Immunology and Infectious Disease; and Bindley Bioscience Center contributed to this work. The research was supported by grants from the National Science Foundation, Purdue Research Foundation, Office of the Executive Vice President for Research and Partnerships, National Institutes of Health, Purdue Center for Cancer Research, and the International Retinal Research Foundation.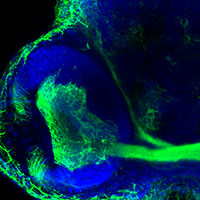 The eye of a zebrafish embryo deficient in NADPH oxidase 2 has an enlarged ganglion cell layer (green) andaltered innervation of the brain, which leads to problems with signaling between the eyes and the brain.