Dr. Paschou Named a 2019 University Faculty Scholar
12-12-2018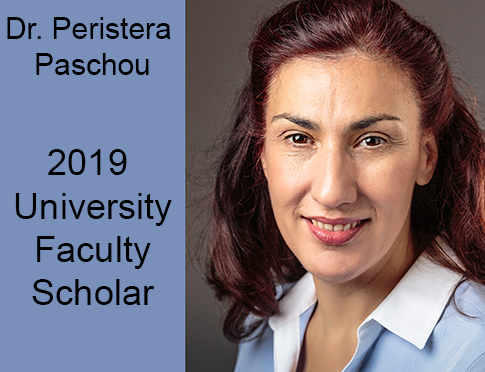 Dr. Peristera Paschou has been named a 2019 University Faculty Scholar for her outstanding interdisciplinary research.  This is one of the highest research honors at Purdue where the University Faculty Scholars Program recognizes outstanding faculty who are on an accelerated path for academic distinction.  Dr. Paschou will receive $10,000 per year for five years to be used to further her research program.
Dr. Paschou's research has paved the way for important discoveries that leverage the strength of big data towards clinical translation and personalized medicine.  In particular, she has been a pioneer in the study of Tourette Syndrome and elucidating the genetic basis of multifactorial neurodevelopmental disorders, uncovering the ancient migration routes of human populations, and uncovering population genetic structure and individual ancestry. 
Congratulations Dr. Paschou!