Parasites make the world go 'round
06-04-2018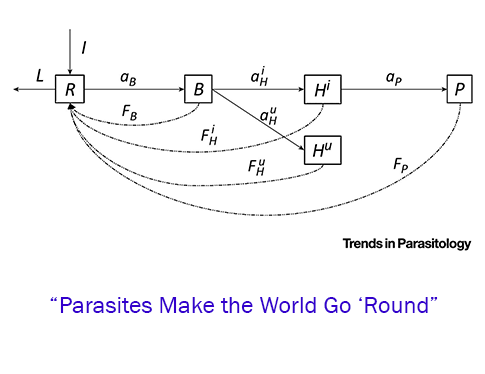 What do you do when you are sick? 
You may spend a lot of time laying on the couch and even switch from your usual diet to soup and crackers. Many animals have similar 'sickness behaviors'. Although these changes may seem small, their impact on the surrounding environment can be large.

Vannatta and Minchella, in their recent Trends in Parasitology paper, discuss how parasite-related behavioral and physiological changes to a host may alter nutrient cycling (the movement of elements through ecosystems). They outline various paths that nutrients may take through the environment and suggest how parasites can change these paths in novel ways. This new framework suggests parasites may have large and previously unrecognized impacts on whole ecosystems.
Vannatta, J. T. and D. J. Minchella. 2018. Parasites and their impact on ecosystem nutrient cycling. Trends in Parasitology 34, 452-455
This article can be downloaded for free at:
https://authors.elsevier.com/a/1X5kg5Eb1wzYU3