How a single protein interferes with the immune system
11-21-2018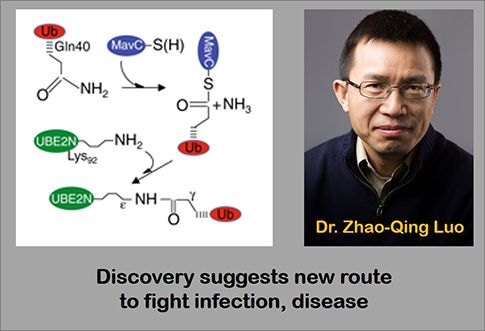 New research reveals how a single protein interferes with the immune system when exposed to the bacterium that causes Legionnaires' disease, findings that could have broad implications for development of medicines to fight disease and infection.
"Our immune system protects us from deadly infections, but successful pathogens have evolved many effective ways to subvert its function," said Zhao-Qing Luo, a Purdue University professor of biological sciences and member of the Purdue Institute for Inflammation, Immunology and Infectious Diseases, who led the research. "We have revealed an intricate mechanism of how a protein from the potentially deadly pathogen Legionella pneumophila turns off the major immune regulatory protein NF-κB, which controls numerous important cellular processes. This is important because it reveals a highly effective and specific way to turn off an immune response."
The findings are detailed in a paper recently published in the journal Nature Microbiology. The paper's lead author is Purdue graduate student Ninghai Gan.