Remembering Professor Henry Koffler, Former Biological Sciences Dept. Head
03-19-2018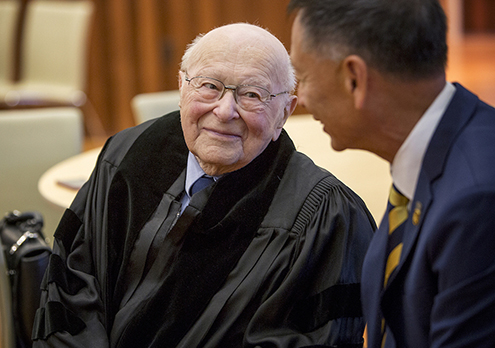 It is with great sadness to report that Professor Henry Koffler passed away on Saturday March 10, 2018 at the age of 95.  I had the good fortune of meeting Henry on several occasions and fondly remember spending an evening with him this past September at our "Celebration of Structural Biology Symposium" in honor of Michael Rossmann's long career at Purdue.  Even at the age of 95, Henry kept his enthusiasm for science and education at a very high level.
 Henry was arguably the most influential Head of our Department which he led to prominence from 1959-1975.  During his time as leader Henry oversaw the growth and reorganization of the Department in which he was directly responsible for hiring many of our most senior colleagues, including Michael Rossmann, Art Aronson, and Bill Pak.  In addition to his leadership roles, Henry was himself a distinguished microbiologist and biochemist who earned a Guggenheim Fellowship and the Eli Lilly Award in Bacteriology and Immunology. 
---
Academic Career
Henry began his undergraduate studies at the University of Arizona in 1940, studying Agricultural Chemistry where he earned a bachelor's degree in 1943, a master's degree from the University of Wisconsin in 1944 and a doctorate from the University of Wisconsin in 1947.
Following Wisconsin he joined the faculty of Purdue University and quickly rose through the ranks, becoming one of the youngest Full Professors at Purdue and eventually moving on to become the Head of the Department of Biological Sciences from 1959-1975.
An able academic administrator, he then served as Senior Vice President for academic affairs at the University of Minnesota in 1975, Chancellor for the University of Massachusetts, Amherst in 1979 and President of the University of Arizona in 1982-1991.
Upon his retirement in 1991, the Arizona Board of Regents appointed him President Emeritus. The Henry Koffler Building was named for him in 2000. The 127,000-square-foot building features 22 chemistry labs, 17 biology labs and three lecture halls, all for teaching undergraduate chemistry and biology classes.
Henry's many honors included honorary doctorates from Purdue, the University of Arizona, and Amherst College. He also was an officer, Ordre des Palmes Académiques, France.
He was a member of the American Society of Biological Chemists, a charter Fellow of the American Academy of Microbiology and a Fellow of the American Association for the Advancement of Science.
---
Personal Life
Henry was born in Vienna, Austria, in 1922. He was 5 when his father died, and his mother raised him to appreciate Vienna's music, theater and artistic offerings.
He came to the U.S. from Austria alone at age 17, after the Nazi annexation of Austria in 1939. His mother followed two months later. At his suggestion, they settled in Prescott, Arizona, of which he knew from German writer Karl May's Western adventure books.
 Henry met his wife, Phyllis, at a concert at the University of Arizona and they married in 1946.
After his "retirement" in 1991, Henry created the Arizona Senior Academy and Academy Village, a retirement community for people interested in lifelong learning and intellectual and artistic pursuits.  The community, which remains vibrant today, has been described as a place "for people who wanted to retire from work, not life."
In 2013, at age 90, Henry became a digital artist, using his iPad to create abstract paintings inspired by biology and chemistry.  He had five art shows, including two sponsored at the University of Arizona Tech Parks.  I highly recommend you visit his website to see his creative influences in his art at https://www.henrykofflerart.com/.
Henry is survived by Phyllis (Pierson) Koffler, his wife of more than 71 years.
Donations can be made to the Henry and Phyllis Koffler Prize at the University of Arizona Foundation, or to the Koffler Memorial at the Arizona Senior Academy at 13715 E Langtry Lane, Tucson AZ 85747.