2018 Yeunkyung Woo Achieve Excellance Travel Award Winners
02-13-2018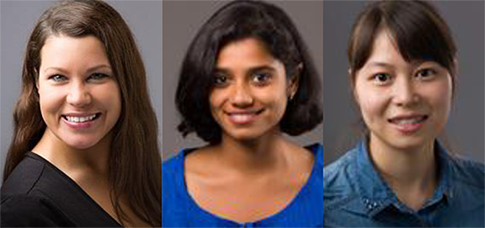 The Department of Biological Sciences is pleased to announce the winners of the Yeunkyung Woo Achieve Excellence Travel Award for the Spring 2018 competition. 
Maurina Aranda (Dr. Selcen Guzey's Laboratory) will present two talks on her studies on "An Exploratory Case Study on Hybrid Disciplinary Discourses within a Science and Engineering Unit" and "Classroom Discourse and Student Learning in an Engineering Design-based Science Unit" at the upcoming 2018 National Association for Research in Science Teaching (NARST) Annual Meeting in Atlanta, GA.
Swetha Ramadesikan (Dr. Claudio Aguilar's Laboratory) will present her studies on "Differential effect of OCRL1 patient mutations on protein localization, and sensitivity to FDA-approved drug suppression of cellular phenotypes associated with Lowe syndrome" at the upcoming 2018 Experimental Biology Annual Meeting in San Diego, CA.
Wenqing Zhou (Dr. Qing Deng's Laboratory) will present her studies on "Neutrophil-specific knockout demonstrates a role for mitochondria in regulating neutrophil motility in zebrafish" at the upcoming 2018 International Conference on Zebrafish Development and Genetics at the University of Wisconsin, Madison, WI.
Congratulations to each of these very deserving graduate students.