Tom Walter awarded the 2017 J. Alfred and Martha O. Chiscon Undergraduate Teaching Award
05-16-2017
Writer(s): Tricia Johnson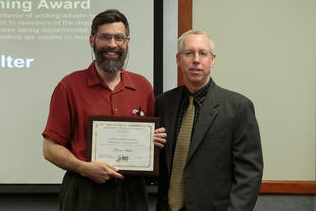 Tom Walter awarded the 2017 J. Alfred and Martha O. Chiscon Undergraduate Teaching Award
Congratulations Tom Walter who was presented the 2017 J. Alfred and Martha O. Chiscon Undergraduate Teaching Award at the Departmental Awards ceremony on April 25th, 2017. 
The Chiscon Award is Biological Sciences highest teaching award to recognize the importance of undergraduate teaching in the Department of Biological Sciences.  This award is given to members of the department who have shown excellence in the instruction of undergraduates taking departmental courses in the 100-500 levels.  Faculty members & laboratory coordinators are eligible to receive the award.
This  award was established with a gift from alumni Will D. Carpenter and others in recognition of the long-term teaching efforts and dedication of Al and Martha Chiscon, Professor Emeriti of Biological Sciences.  A Biological Sciences Committee selects the recipients with approval from the College of Sciences Dean and the award alternates between the freshman/sophomore and the junior/senior level.  Al and Martha were selected as the first recipients of this annual award in 1994. 
Al and Martha Chiscon met and married at Purdue.  They taught over 65,000 students in their 70 years of combined teaching and they left an indelible impression on many of the students who passed through the department during their years at Purdue.  Al retired June 30, 1998 and Martha on July 31, 2000.
Current Faculty members that have previously been awarded the J. Alfred and Martha O. Chiscon Undergraduate Teaching Award are:
Daniel Suter
Stephanie Gardner
Stephen Konieczny
Yuk Fai Leung
Donald Ready
Henry Chang
Donna Fekete
Elizabeth Taparowsky
David Eichinger
Peter Hollenbeck
David Bridges
Dennis Minchella
Richard Kuhn
Mark Browning
John Anderson
Laurie Iten