LSC teacher inducted into National Hall of Fame
04-10-2017
Writer(s): Jillian Ellison , jeellison@jconline.com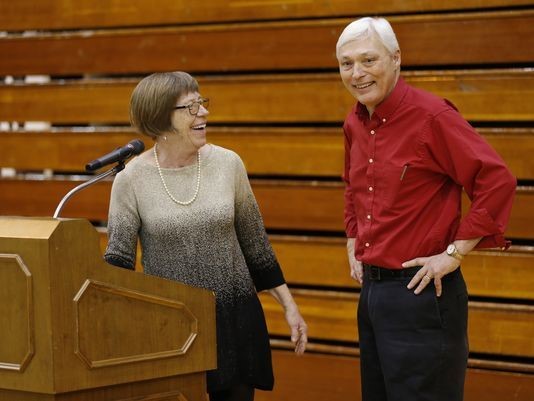 (Photo: John Terhune/Journal & Courier)
LAFAYETTE, Ind.— Joseph Ruhl received one of the biggest surprises of his life Friday morning, walking into an assembly at Jefferson High School to learn he was being inducted into the National Teachers Hall of Fame.
The circle of those who were in on the secret of the assembly was kept tight as Lindy Whetzel, vice-chair of the board of trustees of the National Teachers Hall of Fame, informed the audience that one of the teachers among them would be one of 2017's five inductees.
"See if you can tell who it is by me describing them," Whetzel said. "The teacher's classroom revolves around collaboration, communication, critical thinking and creativity. The teacher not only has a passion for biology, but also has a passion to see his students succeed... And I think everyone knows who I am describing: Mr. Joseph Ruhl."
As applause erupted, Ruhl, a teacher at the Lafayette School Corp. since 1984, walked up to the podium in complete shock, as he said he was completely humbled.
"I love paradoxes because they make us think, and paradoxically I am feeling very humble right now," Ruhl said. "Because I am thinking about all of these colleagues of mine that have taught me so much."
Ruhl said he was surprised to walk out to see his family seated among the special guests by the podium, as he had no inclination that this was what the "special assembly" was for.
"They told me they found out days ago," he said. "I knew I had been nominated, but this has just been quite a shock."
In addition to a a special plaque with his photo commemorating the award, identical to the one that will hang in the hall of fame in Kansas, Ruhl also was showered with several special awards from representatives of the Greater Lafayette community.
Lafayette Mayor Tony Roswarski presented Ruhl with an honorary key to the city, saying in his 14 years serving as mayor he has only presented the award a few times.
Rep. Shelia Klinker presented Ruhl with the Indiana Golden Seal of Approval, which Klinker said is made entirely in Indiana.
Sen. Ron Alting presented Ruhl with the Sagamore of the Wabash award.
After the speeches were over and the awards dispersed, Jeff students and staff members flooded down the stands to congratulate Ruhl, which he said is what his profession is all about.
"I love teaching at Jefferson High School and I am going to keep doing what I do as long as I can," Ruhl said. "I don't view this as a job, for me personally. This is a calling, which is why I love it so much."