Ross Biological Reserve breaking ground for a new building
04-10-2017
Writer(s): Kerry N. Rabenold, Professor Emeritus of Biological Sciences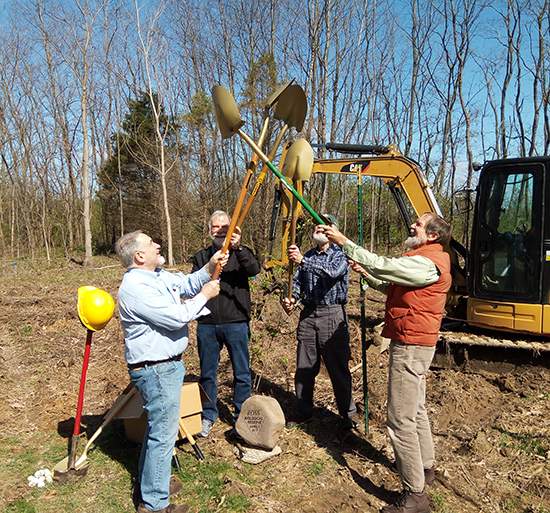 On Saturday April 1, we broke ground at the Ross Biological Reserve for a new building that will support ecological research, teaching and outreach by housing a graduate ecologist-in-residence, and by providing an open-air pavilion for visiting groups.  About 40 people from the department and community attended the ceremony and enjoyed a potluck lunch in the Alton A. Lindsey Field Laboratory.  
Planning began in 2010 when the previous modular housing was demolished, and continued through seminars and a graduate course.  The building will blend traditional and modern technologies in a log frame and shell with photovoltaic and geothermal technology.  Its thermal efficiency will minimize energy consumption, and the building's design will play a part in the outreach curriculum.  This effort has been funded by generous donations from more than 200 families representing alumni, faculty, and community friends.  Institutional support has been provided especially by the Department of Biological Sciences, College of Science, Purdue's Office of Sustainability, and by Tipmont REMC.  
Preliminary site work including buried electrical service and tree clearing is complete, and excavation for the foundation and the geothermal system are beginning this week.  The log shell is nearly complete and ready for shipping to the site, where windows and doors are waiting.  The building should be habitable by the end of June, and we anticipate an openhouse in the beginning of September.  The on-site ecologist will facilitate the research and education missions of the Reserve by maintaining infrastructure, designing and implementing outreach activities, archiving data, and communicating activities at the Reserve.