Gardner receives Murphy Exceptional Early Career Award
03-22-2017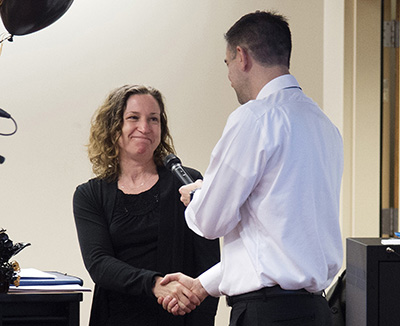 Stephanie Gardner, assistant professor in the Department of Biological Sciences has been named a recipient of the 2017 Exceptional Early Career Award.  Gardner was surprised with the news on Tuesday (March 21).  Purdue is announcing recipients of the Exceptional Early Career Award and the Outstanding Undergraduate Teaching Award in Memory of Charles B. Murphy throughout the week.
The Exceptional Early Career Award recognizes outstanding undergraduate teaching among Purdue's early career, tenure-track faculty. Recipients of the award will receive a $5,000 award with additional funds for a department business account.  
Previous awardees from Biological Sciences include: Peter Hollenbeck awarded the Murphy award for the 2012-2013 academic year, Steven Konieczny awarded the Murphy award for the 2003-2004 academic year and Dennis Minchella awarded the Murphy award for the 1991-1992 academic year.
The University's highest undergraduate teaching honor, the Murphy Award is accompanied by a $10,000 cash award and induction into Purdue's Teaching Academy, which provides leadership for the improvement of undergraduate, graduate and outreach teaching. Murphy was a history professor at Purdue from 1927 to 1970.
The recipients will be honored at an invitation-only luncheon on April 3. A list of past Murphy Award and Early Career Award recipients is at https://www.purdue.edu/provost/faculty/charlesAward.html. A list of all winners of teaching awards is at https://www.purdue.edu/cie/teachingawards/index.html.