#IAM GOLDEN Student Feature: Danielle Rivers
01-25-2017
Writer(s): Markeia Pervine, Purdue CCO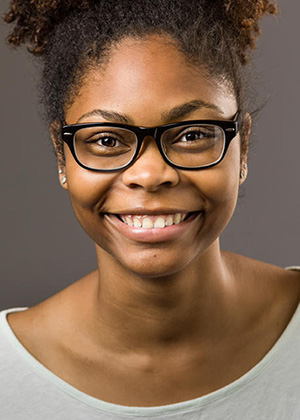 Every college student knows there are three main areas their time is devoted to: classwork, social life, and sleep. Students also know that you are lucky to achieve success in two of those categories. Purdue student, Danielle Rivers, a junior majoring in Genetics has made her mark on campus by involving herself in many extracurricular activities, maintaining exceptional grades, and still having a social life.
Along with her challenging and extensive course load, she is a Teaching Assistant for Introduction to Biology Lab (BIOL 135), a Student Coordinator for Black Thought Collective, Vice President for Association of Multicultural Science Students, a Tutor for Biology Resource Center, devotes 8-10 hours a week in lab for Undergraduate Research and a part of the Afro Royale Dance Troop. Rivers exhibits that it is possible to be involved on campus while still maintaining your coursework and a social life.
In college, time management is one of the most important aspects in being successful and knowing how to divide your time. "The key in being so involved and successful with school is knowing yourself and prioritizing. I know that I can't do homework in my room or with my friends – that is all about knowing yourself. It's also good to understand that you will not always get everything you want. If you begin to feel overwhelmed, know when to say "no"."
Making time for yourself is also equally important. "During the week, Monday through Friday, I am absolutely busy and have no time at all. Because of that, Sundays are all about me and what I want to do."
After completing two and a half years at Purdue, Danielle stated a few things academically and overall that she would change. "Academically, I wish that I would have changed my major sooner. At first, I settled for what people would tell me or what they would want, but you must do what you want for yourself. I originally majored in Industrial Management, but I wasn't passionate about it nor doing well. After switching to Biology and then Genetics, I absolutely love it."
Need help with changing a major or prioritizing your time? Schedule an appointment with the CCO for a 60-minute appointment.
https://www.cco.purdue.edu/students/