Spring 2017 Biological Sciences Alumni Advisory Council Meeting
03-31-2017
Writer(s): Tricia Johnson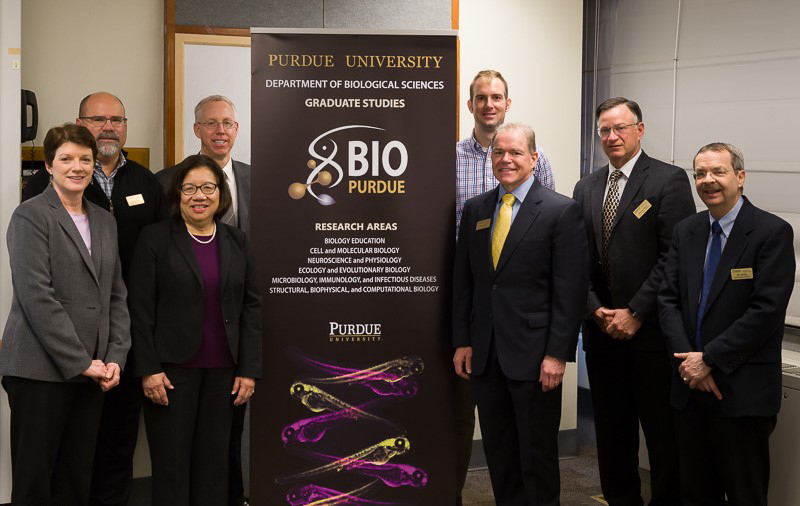 Biological Sciences Alumni Advisory Council met on campus on March 30-31st in a session entitled "Moving Biological Sciences Forward for 2017-2018".  Interim Department Head Steve Konieczny hosted the council; they discussed "Relaying the importance of a Purdue Biology education". 
The council broke up in to two groups to have lunch and discussion with the sophomore BIOL 293 class. During lunch members of the BSAAC spoke with the BIOL 293 class about their different career paths and how their degree in Biological Sciences has helped shape their future.  A networking event that afternoon was held in the Marriott Atrium where students in BIOL 393 were able to interact with our Alumni Advisory Committee discussing different career paths in Biology in rotating stations.
BSAAC members also met with Associate Heads: Claudio Aguilar, Chris Sahley and Cynthia Stauffacher for dinner on Friday evening.
As always, we are so thankful to host the Biological Sciences Alumni Advisory Committee on campus and are ever grateful for their willingness to be with us.
Council members from left to right are Kathy Anderson (Assistant Head), Bruce Kidd, Belinda Seto, Steve Konieczny (Interim Department Head), Jonathan Snyder, Reid Leonard, Herman Houin, and Bill Phillips.