Dr. Claudio Aguilar presented 2016 Sigma Xi Midcareer Research Award
04-17-2017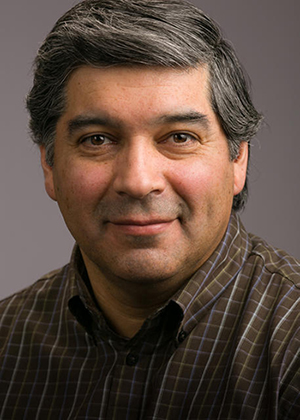 Congratulations to Dr. Claudio Aguilar who was awarded the 2017 Midcareer Research Award from Sigma Xi, The Scientific Research Honor Society.  Dr. Aguilar was recognized for his outstanding research contributions towards understanding fundamental mechanisms underlying and coordinating vesicle trafficking (with a particular emphasis on endocytosis) and intracellular signaling.  Dr. Aguilar's research has not only revealed key molecular pathways involved in these intracellular processes, but his studies have also provided new therapeutic strategies for treating a number of disease states including bladder cancer and Lowe Syndrome, a devastating genetic disease that leads to early death of affected children due to kidney failure. 
Sigma Xi is a non-profit membership society of nearly 75,000 scientists and engineers who were elected to the Society because of their research achievements or potential.  Some 180 Sigma Xi members are Nobel Laureates and many more have been elected to the National Academies of Science & Engineering.  Sigma Xi has more than 500 chapters at universities and colleges, government laboratories, and industry research centers.  The Purdue University chapter of Sigma Xi was among the first in the nation, being established in 1909 as the 27th chapter out of the more than 500 chapters in existence today.  
Congratulations Dr. Aguilar on this most deserved honor!