Congratulations to Dr. Claudio Aguilar named a 2018 University Faculty Scholar!
12-05-2017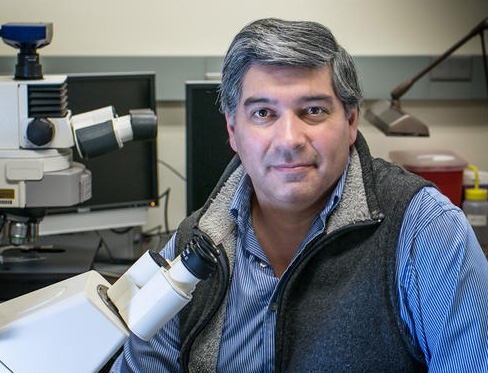 Congratulations Dr. Claudio Aguilar!
 Dr. Claudio Aguilar has been named a 2018 University Faculty Scholar for his research efforts and discoveries in the areas of basic and applied cell biology.  This is one of the highest research honors at Purdue where the University Faculty Scholars Program recognizes outstanding faculty who are on an accelerated path for academic distinction.  
 Dr. Aguilar's group has been studying Lowe Syndrome, a rare genetic condition that causes varying levels of physical and mental handicaps, leading to early death of affected children due to kidney failure.  Using patients' cells, the Aguilar lab has identified specific cellular abnormalities that provide an explanation for the children's symptoms.  This breakthrough has led to the re-classification of Lowe syndrome as a ciliopathy-associated disease and it has contributed to establishing the first animal model for this condition.  Significantly, work from the Aguilar lab has also helped to identify 2 FDA-approved drugs that are able to revert Lowe syndrome abnormalities.  The group is now applying stem cell reprograming technology to Lowe syndrome patient cells to better understand the processes leading to developmental abnormalities in patients.  This new strategy will likely pave the way towards future cell replacement therapies against this lethal condition.