Name that song - Biology professor tailors playlist to day's lecture
01-19-2016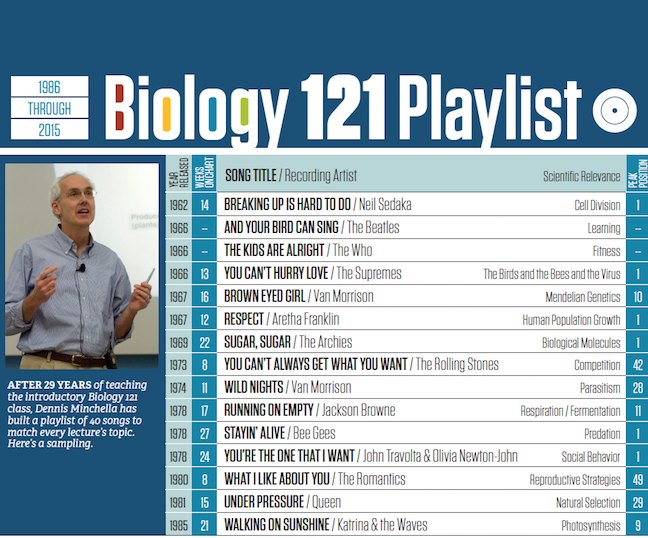 Author: Kelly Hiller
If you walk by the large lecture classroom in Lilly Hall on Tuesday and Thursday mornings, you may hear music during the changing of classes every fall. Songs by classic rock groups ranging from The Beatles, Stones, Byrds, and The Who to Queen, Springsteen, Bon Jovi, and Boston reverberate from the classroom and chase the previous instructor down the hall. This is not a music class, but rather the beginning of Dennis Minchella's Biology 121 lecture.
Minchella has taught the large enrollment introductory biology course for 29 years, and initially he was challenged to create a student-centered environment in a large lecture course. One approach he used was to play upbeat rock music that relates to the theme of the day as students enter the lecture hall. "Music promotes a comfortable classroom atmosphere; it sets the mood and keeps students coming to class." For example, he will play Van Morrison's "Brown Eyed Girl" prior to a lecture on Mendelian genetics. He started with a handful of songs and over the years both students and teaching assistants have added to the playlist eventually naming a song for every lecture in the course. At some point during the 50-minute period, Minchella will use the title of the song in the lecture. The songs are timed so that they end when lecture is scheduled to begin, and this feature gives him an unexpected advantage. "When the song ends, I say good morning and off we go. It is an effective way to get the attention of 400 students!"
More than 14,000 students have taken Biology 121, including a gold medal winner, three centers from the basketball team, two Homecoming queens, and a Jeopardy contestant. The only time that any of the students have heard a current song was when the Purdue Music Organization held a flash mob in his lecture and sang the Maroon 5 song "Payphone" a cappella. "It was a memorable lecture for the students, but I am not sure that anyone learned any biology that day," he says.
Interestingly, many of his current first-year students know most of the classic rock songs and his past students fondly relate certain tunes to specific topics, for instance, "Walking on Sunshine" for photosynthesis and "Running on Empty" for fermentation. Years ago an international student expressed her delight at hearing the songs during the semester and asked where she could purchase the Biology 121 song CD. There is no CD, but this collection of songs helps engage young biology students. Biology 121 prepares students for success not only in science, but also in music trivia!
Article published in JanFeb 2016 edition of Purdue Alumnus.