Meet the BIOL13100 peer leaders!
02-16-2016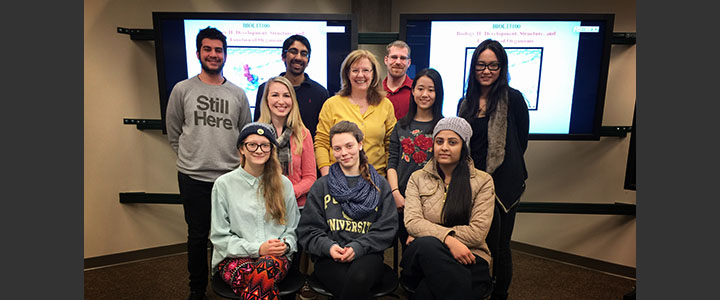 Listed Left to Right:
Front row: Rachel Eberle, Alexis Stolte, Anmol Bawa
Middle row: Alix Bikker, Professor Nancy Pelaez, Ding Zuo
Back row: Stavros Anagnou, Shovik Bandyopadhyay, Nick Wilbur, Stephanie (Jingfan) Chen
Not shown are Whitney Slusser, Grace Higgenbottom, and online workshop peer leaders, Gabrielle Harter and Darcy White.
These are the Peer leaders for the IMPACT section of BIOL13100 on Development Structure & Function of Organisms. This section was modified for first-year biology majors to provide opportunities for peer-lead student learning in a non-traditional interactive classroom setting. During weekly workshops, these peer-leaders prompt student teams to work through challenging problems. The course was modified with support from the National Science Foundation (NSF #0837229), EDUCAUSE and Gates Foundation funding for Next Generation Learning Challenges, and IMPACT (Instruction Matters: Purdue Academic Course Transformation). The overarching goal of IMPACT is to achieve a greater student-centered learning environment by incorporating active and collaborative learning as well as other student-centered teaching and learning practices and technologies. Students enrolled in the BIOL13100 IMPACT section connect their learning of foundational principles to biology research endeavors. According to the IMPACT Report on this section, scores for "student perceptions of BIOL13100" are superior to the average scores for all IMPACT courses in all areas surveyed: Learning Climate, Autonomy, Competence, Relatedness, and Knowledge Transfer. Learning Climate refers to students' perceptions of the student-centeredness of the learning environment. Higher scores reflect the student-centered environment in this course. A high Autonomy score refers to the fact that students feel a sense of self-determination and the Competence score means that students feel capable of mastering the learning activities in the course. Relatedness refers to students' perceptions of meaningful interpersonal relationships with other people. Remarkably high scores for perceived Knowledge Transfer reflects the perception that information learned in the BIOL13100 IMPACT section would transfer beyond the course.