Fall 2016 Building Momentum for Biological Sciences at Purdue – BSAAC
11-04-2016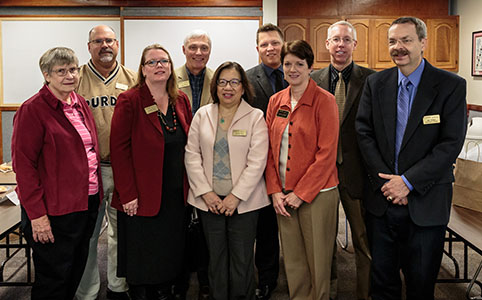 The Biological Sciences Advisory Committee met today with the Biology Leadership Team to discuss "Building Momentum for Biological Sciences at Purdue".
The BSAAC committee consists of Pam Fraker, Meg Frazer, Bruce Kidd, Bill Philips, Jennifer Ruby, Joe Ruhl and Belinda Seto. Biological Sciences leadership team consists of Steve Konieczny, Claudio Aguilar, Kathy Anderson, Chris Sahley, Cynthia Stauffacher and Jimmy Parker, Director of Development for Biology. The teams discussed strategies on moving the department forward and future action items.
The group also met with a selected group of Graduate Students and Postdocs: Ahmad Athamneh, Jeremy Bakelar, Aaron Gall, Alyssa Gleishsner, Esteban Orellana and Anwesha Sanyal to explore career opportunities in Biology.