Bio alumna Amanda Elmore wins Olympic gold in women's rowing event!
08-18-2016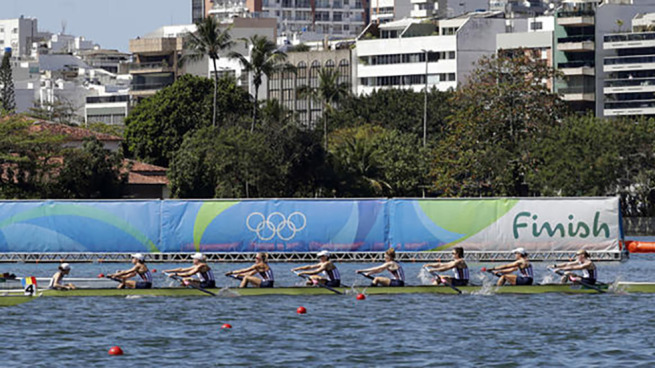 Purdue alumna Amanda Elmore won a gold medal at the 2016 Olympic Games on Saturday as a member of the United States women's eight rowing team at Lagoa Stadium in Rio de Janeiro.
The United States finished the 2,000-meter race in a time of 6:01.49, ahead of Great Britain (6:03.98) and Romania (6:04.10). At the halfway point, the U.S. was in third place, behind Canada and the Netherlands, but just a few seats off the lead. Just before the 1,500-meter mark, the U.S. pulled in front by several seats and increased its margin in the final stages of the race.
Elmore, who attended Harrison High School in West Lafayette, Indiana, was a member of the Purdue rowing club team. She was named Most Valuable Oarswoman in 2012 and 2013. Elmore, who earned her bachelor's degree in biology in 2013, is pursuing her doctorate in microbiology at Michigan.
Elmore was in the stroke seat, the one who sets the rhythm and pace, the last rower to cross the finish line.
For U.S. Rowing, it marked its third straight gold medal in the women's eight. Moreover, the Americans have been unbeaten for 10 years in the event, winning every world championship and Olympics since 2006.
Elmore is the fifth Boilermaker to win an Olympic gold medal, and the quintet has combined for 14 gold medals. She joins David Boudia and Steele Johnson, who won silver in synchronized 10-meter platform diving Aug. 8, as Purdue medalists at the 2016 Olympics. Eight Boilermakers are competing in Rio.
More information on Boilermakers at the 2016 Olympics.
Purdue Olympic Gold Medalists
Ray Ewry, United States

1900: Standing High Jump, Standing Long Jump, Standing Triple Jump;
1904 - Standing High Jump, Standing Long Jump, Standing Triple Jump;
1906 - Standing High Jump, Standing Long Jump;
1908 - Standing High Jump, Standing Long Jump

Howie Williams, United States - 1952: Men's Basketball
Terry Dischinger, United States - 1960: Men's Basketball
David Boudia, United States - 2012: 10-Meter Platform Diving
Amanda Elmore, United States - 2016: Women's Eight Rowing