Team USA selected from USA Biology Olympiad at Purdue
06-15-2015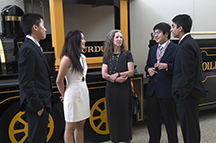 Four top-scoring high school students will represent the United States as Team USA 2015 during the International Biology Olympiad July 12-19 in Aarhaus, Denmark.
Members of Team USA earned gold medals at the Center for Excellence in Education's USA Biology Olympiad national finals jointly sponsored with Purdue University on its main campus. Nearly 10,500 students competed in the nationwide high school competition.
Team USA 2015 gold medalists, announced during a closing reception Thursday (June 11) at Purdue, are:
* Grace Chen, Bridgewater-Raritan Regional High School, Bridgewater, New Jersey.
* Yilun Du, Pullman High School, Pullman, Washington.
* Boyang "Peter" Dun, Canterbury School, Fort Wayne, Indiana.
* Varun Mangalick, Mounds View High School, Arden Hills, Minnesota
"The Center for Excellence in Education is honored to support Team USA as it competes against the top students from more than 60 countries and five continents in Denmark at the International Biology Olympiad," said Joann DiGennaro, president of CEE. "Team USA members are the next generation of STEM-driven students and global leaders who will collaborate and excel in creating new innovations and scientific discoveries to tackle major scientific challenges."
Kathy Frame, director of the USABO and special projects for the CEE, and Clark Gedney, director of the BioMedia Center for Instructional Design at Purdue, are accompanying Team USA to the event in Denmark.
"These bright young high school students are an inspiration for all they have accomplished and what they will accomplish moving forward," said Alyssa Panitch, Purdue vice provost for faculty affairs and the Leslie A. Geddes Professor of Biomedical Engineering, who spoke during the USABO awards ceremony. "You are off to a great start to your careers, and a shout out also goes to your parents, your friends, your teachers and all those who have supported you along the way."
Dun, who will be a senior at Canterbury School in Fort Wayne, is the first Indiana student to make Team USA since Purdue began hosting the USABO in 2009.
All Team USA members have medaled since the United States first began competing at the IBO in 2003, garnering a total of 38 gold, eight silver and two bronze medals. Team USA members earned gold medals at the last six International Biology Olympiad competitions and the coveted "No. 1 position in the world" in 2011 and 2013.
At last year's IBO, Team USA was awarded three gold medals and one silver medal. The team was composed of William Long of Alexandria, Virginia; Abhijit Mudigonda of Portland, Oregon; and 2015 Team USA members Du of Washington state and Mangalick of Minnesota.
USABO 2015 silver medalists announced at Purdue are:
* Kevin Bao, Troy High School, Fullerton, California.
* Michael Gao, Freehold High School, Freehold, New Jersey.
* Siddarth Guha, Dulles High School, Sugar Land, Texas.
* Kentaro Tanaka, Santa Clara High School, Santa Clara, California.
USABO 2015 bronze medalists are:
* Jueun Lee, Lexington High School, Lexington High School, Massachusetts.
* Zilu Pan, Canyon Crest Academy, San Diego, California.
* David Wu, Troy High School, Troy, Michigan.
* Maxwell, Zhu, Cambridge Educational Institute, Chino Hills, California.
Finalists from 10 states were selected to compete at the USABO based on their scores from the open and semifinal exams.
During the USABO at Purdue, which ran May 31 through June 11, the students took both a practical and theoretical exam. The four students scoring the highest on those exams won gold medals at the USABO and earned spots on Team USA 2015 to compete at IBO.
The students participated in intensive lectures, study sessions and laboratory exercises across campus and in Discovery Park, all led by biology experts in fields that include microbiology, plant anatomy, physiology, ethology, genetics and biosystematics.
About the Center for Excellence in Education
The Center for Excellence in Education was founded in 1983 by the late Adm. H.G. Rickover and Joann P. DiGennaro, who serves as CEE president. The center's mission is to nurture high school and university scholars to careers of excellence and leadership in science, technology, engineering and mathematics, and to encourage collaboration between and among leaders in the global community. CEE sponsors the Research Science Institute, the USA Biology Olympiad, and the Teacher Enrichment Program.
Media Contacts:
Maureen Palmer, 703-448-9062 ext. 224, mpalmer@cee.org
Phillip Fiorini, 765-496-3133, pfiorini@purdue.edu
Sources: Kathy Frame, 571-228-0098, kframe@cee.org
Clark Gedney, 765-494-4921, cgedney@purdue.edu