Spring 2015 Biological Sciences Alumni Advisory Committee Meeting
05-01-2015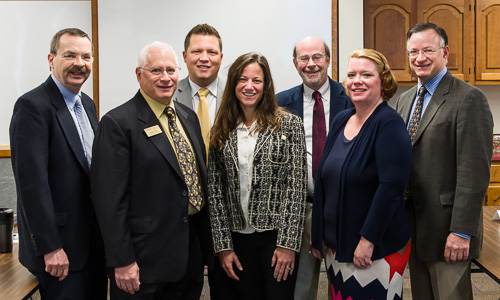 The department welcomed its Alumni Advisory Committee to campus April 23 -25 in a session entitled 'Building Life Science Pillars at Purdue'. Marietta Harrison spoke to the group Friday morning about the new pillars initiative followed by a presentation from Assistant Department Head Claudio Aguilar who discussed the future direction of the department. Two graduate students, Sakshi Tomar and Sylvia Bonilla spoke to the group about their exciting research endeavors before the committee broke up in to two groups to have lunch and discussion with the sophomore BIOL 293 class. During lunch members of the BSAAC spoke of their different career paths and how their degree in Biological Sciences has helped shape their future. The afternoon consisted of strategic sessions aimed at moving life sciences forward. A networking dinner that evening was held at the Purdue Memorial Union where students in BIOL 393 were able to interact with our Alumni Advisory Committee.
Before departing campus BSAAC met Saturday morning to discuss their visit, present Dr. Kuhn with action items, and organize ideas for the fall session.
As always we are so thankful to host the Biological Sciences Alumni Advisory Committee on campus and are ever grateful for their willingness to be with us.