Purdue to collaborate with Argentine Republic
01-16-2015
Purdue University plans to advance science and technology through increased collaboration with the Argentine Republic.
R. Claudio Aguilar, associate professor and assistant head of the Department of Biological Sciences, is Purdue's liaison for the cooperative effort.
"We are working to identify opportunities for joint research projects and collaboration in their development and commercial application, as well as ways to expand scientific cooperation between Argentinean and American professors in a long-lasting and meaningful way," Aguilar said. "The specifics of how we will do this will be defined in future meetings, but could include an exchange of scientists and students to expand training and share facilities."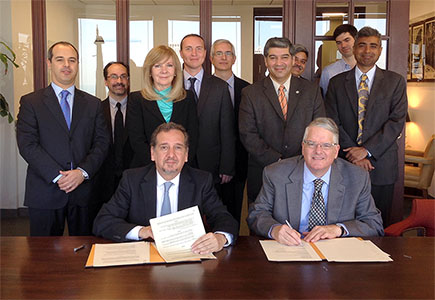 Purdue has signed an agreement to facilitate cooperation with the Argentinean ministry, and the collaborations could occur in multiple disciplines and involve professors from different colleges at Purdue, he said.
Aguilar was among a group from Purdue who met with Lino Barañao, the Argentine Republic's Minister of Science, Technology and Innovative Production, and others from his ministry, in October. The Purdue group included Ariel de la Fuente, professor of history; Marcial Gonzalez, professor of mechanical engineering; Pablo Zavattieri, professor of civil engineering; Gustavo Petri, professor of computer sciences; Arvind Raman, associate dean for global engineering programs; and Ananth Iyer, Purdue's Susan Bulkeley Butler Chair in Operations Management; and Jeffrey Roberts, dean of the College of Science.
Barañao holds a doctoral degree in chemistry and worked as a professor and scientist before being named the Argentine Republic's first Minister of Science, Technology and Innovation Production in 2007. He has served as president of the Argentine Biological Society and the National Agency for the Promotion of Science, Technology and Innovation.
"The goals of Minister Barañao and the Argentine Republic align with our own to support science and pursue innovations that will benefit people throughout the world," Aguilar said. "His approach in how to achieve these goals comes from his foundation as an award-winning scientist. We are eager to share our strengths and benefit from those of the talented scientists in the Argentine Republic."
Writer: Elizabeth K. Gardner, 765-494-2081, ekgardner@purdue.edu
Source: R. Claudio Aguilar, 765-496-3547, Claudio@purdue.edu