Jefferson High School Students Visit The Department of Biological Sciences
04-01-2015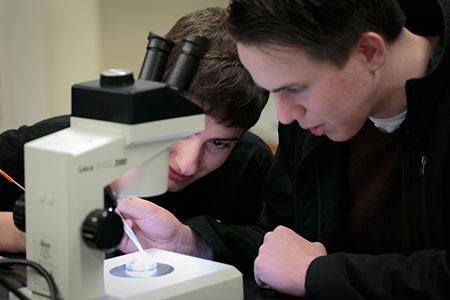 On Wednesday March 18th, the Advanced Biology students from Jefferson high school in Lafayette visited the Department of Biological Sciences. They were accompanied by their teacher, Dr. Melissa George. This visit was organized by our outreach coordinator Isidore Julien, and facilitated by the Department's K-12 Outreach Program. The purpose of this program is two-fold: first, to afford students and their teachers a first-hand experience on biological research at Purdue University; and second, to encourage students to pursue biology study in college.
During their visit, the Jefferson high-school students were hosted by Dr. Yuk Fai Leung's Lab. Dr. Leung, an associate professor in the department, studies Zebrafish eye development and disease. Ms. Prahatha Venkatraman, a graduate student in Dr. Leung's lab, gave the students a 2-hr lab experience. She first introduced the research project in the lab and then explained why the zebrafish is a good model system for vertebrate development. The students learned that the relatively short life cycle of the zebrafish and its transparent embryos facilitate simple observations in the laboratory. Then, the students directly experienced these advantages by observing zebrafish embryos that were either genetic mutants or were subjected to different chemical treatments in a hands-on activity. They recorded and drew their observations of these zebrafish embryos to get a taste of developmental research at Purdue University.
At the end of this exercise, the students also toured Dr. Leung's research lab and the zebrafish facility in the animal house. They observed how the zebrafish were maintained and bred for embryo collection. Finally, they were introduced to different research programs tailored to high-school students by Dr. Clark Gedney, director of the Bio Media Center for Instructional Computing.
Dr. Melissa George indicated that the students were impressed with the laboratory visit and came away with a good appreciation of what it means to do research science.
For a complete photo album of the visit, please follow this link to the Leung's Lab blog https://leung.bio.purdue.edu/blog/the-leung-lab-at-purdue-university-hosted-students-from-the-jefferson-high-school/
Article and photo submitted by Dr. Yuk-Fai Leung, Associate Professor of Biological Sciences.