College of Science hosts, succeeds in undergraduate poster symposium
05-06-2015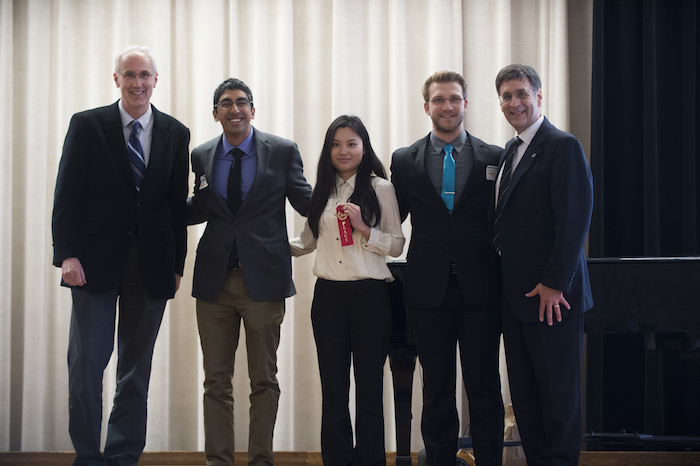 The 2015 Undergraduate Research and Poster Symposium saw a total of 188 research projects in the spotlight. Eight colleges were represented by students, who spent the afternoon of April 14 pitching their research to a panel of judges.
The College of Science had the most research posters at 51. Undergraduate research is an important part of the College of Science undergraduate experience and our students excelled once again.
Biological Sciences' junior Sarah Mace was among the top-five winners of the event. Her abstract "Does Genetics Affect the Response of Lumbar Spine to Dietary Calcium?" impressed throughout the symposium.
"Serum calcium levels (Ca) are tightly regulated by a three tissue axis of intestine, kidney and bone," Mace's abstract read. "The actions of these organs serve to maintain whole-body Ca homeostasis by increasing intestinal Ca absorption efficiency, renal reabsorption and bone reabsorption when dietary Ca intake is low. The purpose of this study was to determine the role of genetics in the lumbar spine response to dietary Ca restriction."
Six of the eight colleges represented announced their top-three winners. The College of Science's tremendous trio consisted of:
First place winner was Shovik Bandyopadhyay, a Biological Sciences sophomore, for his work "Combinatorial Inhibition of Cholesterol Esterification and Bcr-Abi Synergistically Suppresses Proliferation of Chronic Myeloid Leukemia with Bcr-Abi Independent Imatinib Resistance."
Second place went to Linjia Liu, a Chemistry junior, for "Mechanistic Insight into Receptor Specific Gene Delivery by Cationic-B-Cyclodextrin:Hyaluronic Acid-Adamantane Host:Guest pDNA Nanoparticles,"
and Jonathan Stelzleni, a senior studying Physics and Astronomy won third for "Cosmic Ray Activity Due to Solar Maximum."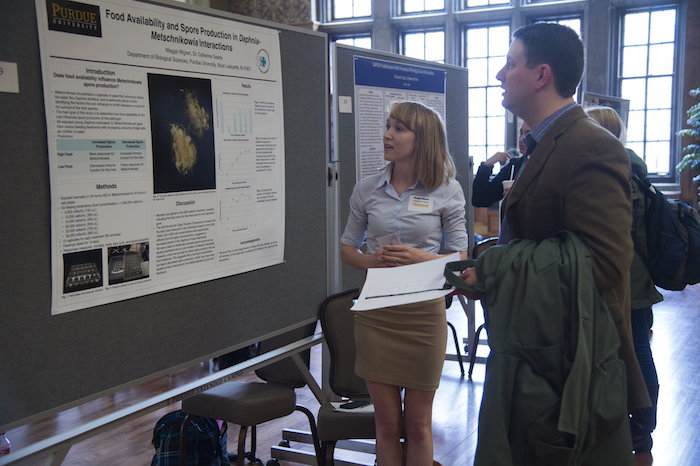 Original article can be viewed on the College of Sciences website.