2015 Outstanding Alumni - Michelle Hood and Simon Rhodes
09-28-2015
The Department of Biological Sciences honored the 2015 Outstanding Alumni - Michelle Hood and Simon Rhodes on September 24-25, 2015. A reception and dinner was held in the East Faculty Lounge attended by the honorees and their family, along with Biological Sciences faculty, and a few graduate and undergraduate students from the department. Michelle Hood received her BS degree in 1978 and Simon Rhodes his PhD in 1991 from the Purdue Department of Biological Sciences.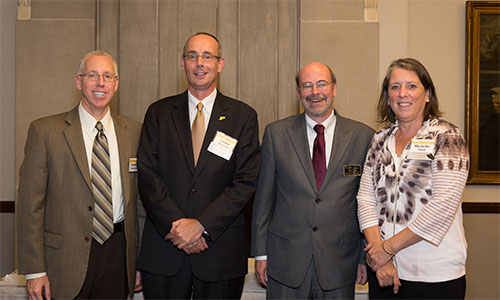 Pictured: Steve Konieczny, Simon Rhodes, Richard Kuhn and Michelle Hood
Brief biographies are below:
Michelle Hood is currently President and Chief Executive Officer of Eastern Maine Healthcare Systems (EMHS) located in Brewer, Maine. EMHS is an integrated healthcare delivery system providing services across Maine. Following her graduation from Purdue, Michelle went to Georgia State University in Atlanta to obtain her Master in Healthcare Administration in 1981. From there she went on to carve an amazing career as a Healthcare Administrator, serving as Executive Vice President and Chief Operating Officer, St. Vincent's Hospital in Birmingham, Alabama; Vice President of Norton Healthcare in Louisville, KY; President and Chief Executive Officer of St. Vincent Healthcare in Billings, MT; and then on to her current position at EMHS. Michelle is a Fellow of the American College of Healthcare Executives and she has won numerous awards including the American College of Healthcare Executives Regents Award, National Health System Patient Safety Leadership Award and an American Hospital Association NOVA Award.
Dr. Simon Rhodes is currently Dean, College of Science at Indiana University-Purdue University in Indianapolis (IUPUI). Dr. Rhodes' research has focused on characterization of the molecular pathways that control the development of the human pituitary gland. His work seeks to understand the nature of pediatric growth diseases and the basic mechanisms underlying pituitary development. Through collaborations with children's hospitals across the world, his lab has defined new forms of pediatric growth diseases and developed new diagnostic, treatment, and genetic counseling tools. In addition to his world renown research, Dr. Rhodes has contributed extensively, both locally and nationally, in outreach and service activities where he has worked tirelessly with Indianapolis schools (including the GK-12 Urban Educators Program) and the Indiana Science Olympiad. He is a board member of TechPoint Foundation for Youth that serves to promote STEM activities for underserved youth in Indiana. He currently chairs the Endocrine Society Trainee and Career Development Core committee and chairs the Research Committee of the U.S. Council of Colleges of Arts and Sciences (CCAS).