Thumbs Up: C. David Bridges
12-08-2014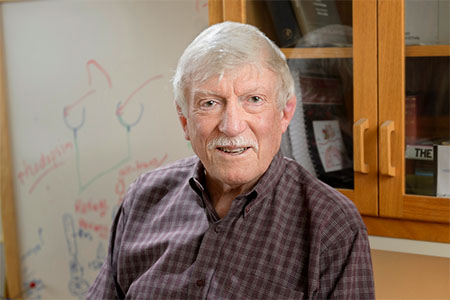 Editor's note: Since 2010, Purdue Today has invited faculty and staff to recognize the good work of others on campus through its weekly "Thumbs Up" feature. This semester, the newsletter periodically will publish an expanded version of this popular feature in an effort to further call attention to employees' excellent work.
Helen Terrell, secretary in the School of Health Sciences, and Lisa Hilliard, coordinator in Medical Laboratory Sciences, recognizes C. David Bridges, professor of biology, for his diligent commitment to writing letters of recommendation for Purdue students seeking clinical placement in one of the School of Health Sciences' nine clinical affiliates.
Terrell and Hilliard write:
"For at least the past 20 years, Dr. Bridges has assisted us by submitting reference letters for our Medical Laboratory Science students. Since one of the application requirements is a reference letter from an instructor in a biology-related course, and each year there are somewhere from 15 to 20 Purdue applicants, Dr. Bridges has and continues to write a lot of letters. The letters give the program directors at our affiliate sites insight into the capabilities of all the students applying for the clinical program.
The School of Health Sciences, our program directors and especially our students really appreciate all the extra time and effort that Dr. Bridges takes to do this, especially because it's done alongside his other duties at Purdue. They include teaching, research and work in the Department of Biological Sciences. Thanks to Dr. Bridges, we are able to get these letters submitted in a timely manner, which ensures that the application process moves efficiently and thoroughly.
Dr. Bridges is another great member of the Purdue community who continues to go out of his way to assist the leaders of tomorrow. Thanks up and hats off to Dr. Bridges -- thank you!"
Writer: Amanda Hamon Kunz, 49-61325, ahamon@purdue.edu
Article orginally published in Purdue Today Monday, December 8, 2014.