The Fall 2014 Biological Sciences Alumni Advisory Committee Meeting
11-26-2014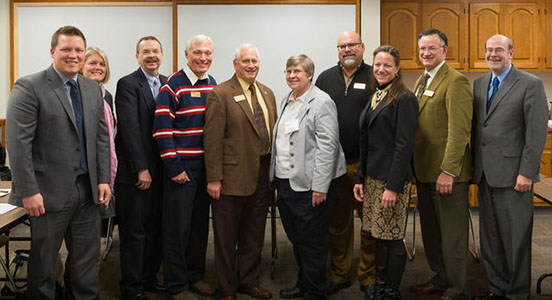 Our Biological Sciences Alumni Advisory Committee met on campus November 20-22nd where they focused on 'Coordinating life science efforts at Purdue'. Their time on campus began with remarks from Provost Dutta and was followed by a presentation from Dr. Claudio Aguilar on the future of the department. Clark Gedney brought the group up to speed on outreach activities and three undergraduate students (Donald Little, Amanda Mark and Taylor Bailey) outlined the research they are working on while working toward their bachelor's degree.
The afternoon was filled with remarks from Dr. Richard Kuhn, Professor and Head of Biological Sciences and Jimmy Parker, Director of Development. Before touring the new Drug Discovery Building Tommy Sors spoke of the role the Bindley Bioscience Center has in linking life sciences at Purdue.
The BSAAC members ended their day amongst some of the department's graduate students and re-convened on Saturday morning for a quick session before wrapping up their time on campus.