Nicole Biddinger is among 5 students who are moving the world forward with their Purdue education.
10-14-2014
Few undergrads come to Purdue with a résumé full of collegiate-level research honors. Nicole Biddinger is an exception — and clearly exceptional. In addition to top finishes in national science fairs and being published in the Oklahoma Academy of Science Journal as a high school student, Nicole took first place at the Intel International Science and Engineering Fair (ISEF) and recently had a planet named after her.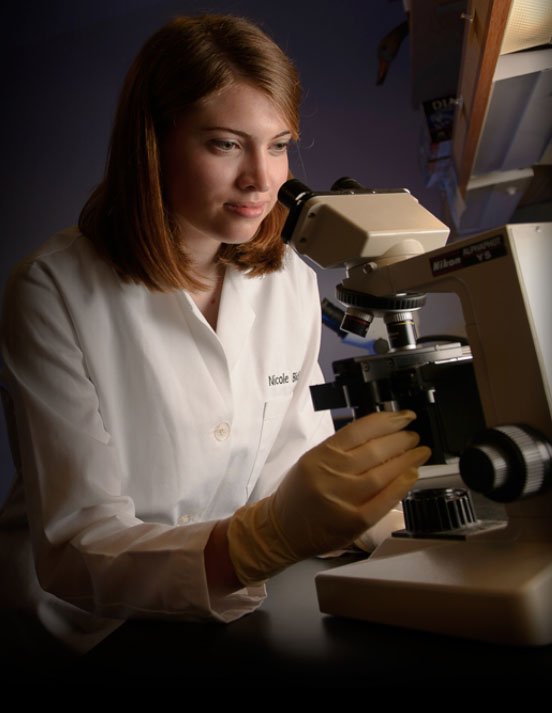 Out of this world.
Judges at ISEF and a committee from the Massachusetts Institute of Technology's Lincoln Laboratory deemed Nicole's pre-Purdue work astronomical and recently named a minor planet after her. Her namesake planet, originally called 28848, is now known as Nicolemarie.
"It's an incredible honor to be recognized for work I am so passionate about," she says. "Very few people have a minor planet named in their honor, so I feel blessed to be among such a prestigious group of amazing individuals like Albert Einstein and Marie Curie who have contributed so much to science and society."
Experienced in success.
Now a sophomore, Nicole already has achieved as much as many graduate students, which has been a key factor in her experience at Purdue. Working on university-level research and holding an internship at a zoology lab at Oklahoma State University were opportunities that set the stage for her continued success.
"I was able to collaborate with graduate and undergraduate students on research and receive training for equipment that is far more advanced than what is typically found in a high school lab. That's why I strongly recommend other young science students to look for internships," she says.
Multiple perspectives.
While laboratory work is a passion, Nicole is more than a researcher. She has a well-rounded perspective and appreciation for the humanities that helps her achieve her scientific goals. Through ballet and gymnastics she has learned endurance and responsibility.
An avid reader and writer, she also served as the editor of her high school newspaper, which helped her notice the intersection of humanities and STEM. "The leadership, organization and communication skills required of students within that environment can serve as incredible preparation in learning to work with other individuals from a variety of backgrounds."
Moving forward.
Nicole came to Purdue for the chance to learn in a strong research environment where she can cultivate her passion for science with world-renowned professors.
She hopes to one day bring her expertise to the Centers for Disease Control or National Institutes of Health. Both her recent diagnosis of Raynaud's disease and her time spent volunteering at homeless shelters have been catalysts to pursue research to help battle disease and provide cost-effective health care for future generations. She is now furthering that mission through her work in Purdue biology professor Esteban Fernandez-Juricic's lab. "Although it is vastly different from what I did in Oklahoma, it's been a wonderful opportunity to be exposed to other areas of research within biology."