High school students selected to participate in 12th USA Biology Olympiad finals at Purdue
05-27-2014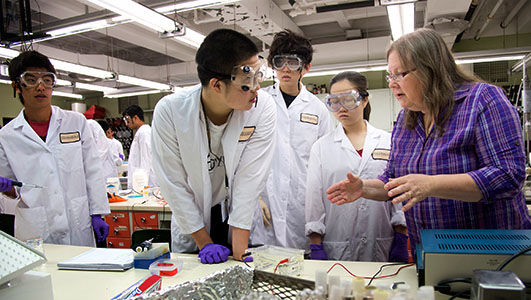 The Center for Excellence in Education (CEE) has announced the 20 top high school students from around the country who have been selected to participate in the 12th Annual USA Biology Olympiad (USABO) national finals on June 1-15 at Purdue University.
Finalists from 10 different states were selected based on their scores from the USABO open and semifinal exams. Nearly 10,500 high school students registered nationally for the USABO. This marks the fifth consecutive year that Purdue has co-sponsored the finals with CEE.
"CEE is honored to sponsor the USABO with Purdue University and to educate high school scholars in practical and theoretical biology," said Joann DiGennaro, president of the center. "The center is thrilled with the United States students' achievements at the IBO."
The national finalists will gather at Purdue to compete for U.S. medals. The top four medalists will travel to Bali, Indonesia, July 6-13 to compete at the International Biology Olympiad (IBO), a worldwide competition involving students from 63 countries.
At last year's IBO, Team USA scored the highest overall team points and was awarded four gold medals. The team was composed of Charles Gleason of Hackensack, N.J.; Nikhil Buduma of San Jose, Calif.; Lei Ding of Wilmington, Del.; and Catharine Wu of San Diego, Calif.
Kathy Frame, director of the USABO and special projects for the CEE, and Clark Gedney, director of the BioMedia Center for Instructional Design at Purdue, manage the administration of the USABO activities.
Gedney said the Biology Olympiad goes hand-in-hand with Purdue's efforts to transform STEM education through the Purdue Moves initiative and its focus on providing students with the opportunity to compete on an international platform and learn in a unique, comprehensive setting.
"It is exciting to nurture these high school students for success at the national level here on campus and at the international level in Indonesia later this summer," Gedney said. "It is quite an experience to mentor a classroom of 20 extraordinary students. These are the students whose discoveries and leadership will alter the future."
The national finalists coming to Purdue for the 2014 USA Biology Olympiad are:
California: Kevin Bao, Troy High School, Fullerton; Nithin Buduma, Lynbrook High School, San Jose; Jeff Chow, Cambridge Educational Institute, Chinos Hills; Jackie Osaki, Santa Monica High School, Santa Monica; Aneesh Samineni, The King's Academy, Sunnyvale; Austin Wang, Flintridge Preparatory School, La Canada Flintridge; Catherine Wu, Canyon Crest, San Diego; and Zhongxia Yan, Davis Senior High School, Davis.

Indiana: Boyang Dun, Canterbury School, Fort Wayne.

Minnesota: Varun Mangalick, Mounds View High School, Arden Hills.

New Jersey: Grace Chen, Bridgewater-Raritan Regional High School, Bridgewater; and Michael Gao, Freehold High School, Freehold.

New York: Erin Kim, Kappa Academy, Bayside.

North Carolina: Peter Luo, William G. Enloe High School, Raleigh.

Oregon: Abhijit Mudigonda, Westview High School, Portland.

Texas: Siddarth Guha, Dulles High School, Sugar Land.

Virginia: William Long, Thomas Jefferson High School for Science & Technology, Alexandria.

Washington: Yilun Du, Pullman High School, Pullman; Ming Liu, Mountain View High School, Vancouver; and Peter Lu, Mountain View School, Vancouver.
During the two weeks at Purdue, the students will participate in intensive theoretical and practical tutorials in laboratories across campus and in Discovery Park. They will study with leading U.S. biologists who are experts in the fields of cellular and microbiology; plant anatomy and physiology; animal anatomy and physiology; ethology, genetics and evolution; and ecology, ethology and biosystematics.
At the conclusion of the two weeks, the students take two exams - a practical and a theoretical. The four highest scoring students will be named to Team USA 2014 and will represent the United States at the international competition. Air travel to the IBO is provided courtesy of Korean Air, the official airline of the USA Biology Olympiad.
About the Center for Excellence in Education
The Center for Excellence in Education was founded in 1983 by the late Adm. H.G. Rickover and Joann P. DiGennaro, who now serves as president of the center. The center's mission is to nurture high school and university scholars to careers of excellence and leadership in science, technology, engineering and mathematics, and to encourage collaboration between and among leaders in the global community. CEE sponsors the Research Science Institute (RSI), the USA Biology Olympiad (USABO), and the Teacher Enrichment Program (TEP).
Media Contacts
Maureen Palmer, 703-448-9062 ext. 222, mpalmer@cee.org
Phillip Fiorini, 765-496-3133, pfiorini@purdue.edu
Anna Schultz, 812-447-5229, schult70@purdue.edu
Sources: Kathy Frame, 571-228-0098, kframe@cee.org
Clark Gedney, 765-494-0157, cgedney@purdue.edu
Article published in Purdue Today May 23, 2014