Discovery Park dedication to celebrate opening of Drug Discovery, Bindley Multidisciplinary Cancer Research facilities
09-03-2014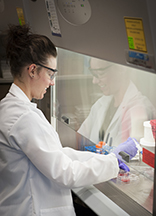 Purdue University will mark the opening of new Discovery Park interdisciplinary research facilities in drug development and cancer, key components of the Purdue Moves initiative, during a dedication ceremony on Friday (Sept. 5).
Purdue President Mitch Daniels will headline the event, which will highlight researchers, industry collaborators and university supporters of the $28.7 million Drug Discovery Facility and the $15.9 million Bindley Multidisciplinary Cancer Research Facility.
The two new buildings are joining Discovery Park, the university's well-established hub for interdisciplinary research that surpassed the $1 billion mark earlier this year in terms of research funding and investments. The park's economic impact is far-reaching.
"Little-noticed even by many here on campus, Purdue researchers have been building one of the most promising portfolios of new drug candidates anywhere," Daniels said. "We hope this growing reputation and these magnificent new facilities will enable us to recruit a host of star researchers and students, and make major contributions to a safe, healthier world."
The new capabilities and laboratory space come on the heels of Purdue reporting its second-best year for external research funding for fiscal year 2014.
"These cutting-edge facilities in the promising life sciences arena will be a magnet for attracting leading faculty and top-tier students," said Alan Rebar, executive director of Discovery Park and senior associate vice president for research. "They will accelerate our efforts to develop a curriculum and learning culture that focuses on all aspects of drug discovery and cancer research. Our students also will have the opportunity to be trained for careers in very popular and in-demand areas."
The three-story Drug Discovery Facility will serve as home to the Purdue Center for Drug Discovery, led by researcher Philip Low, the Ralph C. Corley Distinguished Professor of Chemistry.
The center supports more than 100 faculty in six colleges with research focused on several major disease categories: cancer; diabetes, obesity and cardiovascular; immune and infectious disease; and neurological disorders and trauma.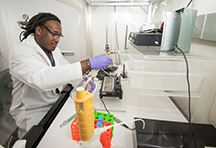 "We want to create an environment and offer resources that eliminate roadblocks and accelerate the rate at which we translate basic research into life-saving tools and treatments," said Low, the inaugural director of the Center for Drug Discovery. "The more efficient we can make this process, the faster we can apply major breakthroughs and discoveries to the care of the millions of patients suffering from these diseases."
With more than 30 compounds at various stages of clinical development, Purdue is among the most productive universities in this area. One of the center's goals is to build on this to create a "drug translation culture" at Purdue, he said.
Low and directors at other Purdue centers with research focused on the disease targets will meet regularly to share discoveries and ensure a unified, efficient progression of the research.
"All researcher and faculty members affiliated with this center will be encouraged not only to discover new information but also to think about its possible applications," Low said. "We will try to connect our researchers to those with expertise in the next steps of drug development to ensure translation of our discoveries all the way through early clinical testing and concept validation."
Purdue has strengths along all points of the drug discovery pipeline, including a premier structural biology group with a track record of discovering new targets to block disease; a chemistry department that has produced two Nobel laureates and is a leader in structure-based drug design; and top-ranked engineering and pharmacy programs.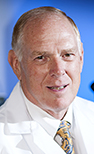 In addition, 14 core units are in place to provide shared resources for analysis, screening, synthesis and testing of potential therapeutic compounds, Low said.
The new Drug Discovery Facility also will help increase funding from federal agencies and industry, Low said. In a time of reduced overall federal support, investment in drug discovery remains strong, and major pharmaceutical companies have been outsourcing research and development to universities and biotechnology firms.
The 29,000-square-foot, two-story expansion of the Bindley Bioscience Center for the Multidisciplinary Cancer Research Facility will advance Purdue's efforts to work on innovative animal models of disease, development of new therapeutics, and in-vivo animal imaging, said Richard Kuhn, the Gerald and Edna Mann Director of Bindley and a professor and head of the Department of Biological Sciences.
More than 80 faculty, students and staff will work in the new Discovery Park research facility, which also has achieved Green Globes certification, Kuhn said.
"This much-needed research space has been designed with the kind of forward thinking that created Purdue's reputation for excellence and innovation," Kuhn said. "The new Multidisciplinary Cancer Research Facility within Discovery Park's Bindley Bioscience Center is the next step to advance our cancer research and assure that the path to benefiting and saving the lives of the people we serve will be our enduring legacy."
Building on Purdue and Indiana's success in advancing bio- and life-science research, the facility will help create jobs and increase the competitiveness of the state's workforce. An expanded Bindley also helps position Indiana to gain a larger share of the $14 billion market for life sciences research and development, an industry segment that's growing at a rate of 15 percent a year.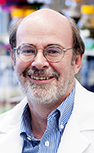 The expansion complements the capabilities of Bindley and the Purdue University Center for Cancer Research in areas such as biophysical and biomolecular analyses, conventional cell imaging and separation, and high-throughput screening technologies. Laboratories will focus on cancer cell biology, therapeutic and medical device development, cell-based screening, medicinal chemistry, and next-generation imaging.
And with Bindley's proximity to the Birck Nanotechnology Center, the addition broadens Purdue's efforts in nanomedicine, which uses nanotechnology for advancing diagnosis and treatment of cancer and other diseases.
"This major Bindley Bioscience Center expansion addresses a critical need for disease researchers from across multiple disciplines at Purdue," Kuhn said. "This also builds on the university's strengths in cancer research, drug discovery and development, engineering, chemistry and instrumentation, and veterinary medicine with a disease research-focused, multidisciplinary facility for biomedical research."
Writers: Phillip Fiorini, 765-496-3133, pfiorini@purdue.edu
Elizabeth Gardner, 765-494-2081, ekgardner@purdue.edu
Sources: Mitch Daniels, president@purdue.edu
Alan Rebar, 765-496-6625, rebar@purdue.edu
Philip Low, 765-494-5273, plow@purdue.edu
Richard Kuhn, 765-494-4407, kuhnr@purdue.edu
NOTE TO JOURNALISTS: The dedication celebration is at 3:30 p.m. Friday (Sept. 5) on the lawn south of Martin C. Jischke Hall of Biomedical Engineering. For more information, journalists can contact Purdue External Relations staffers Phillip Fiorini, 765-496-3133, or Elizabeth Gardner, 765-494-2081.
Article originally published in Purdue Today on September 2, 2014.