Commencement speaker for the College of Science knows how to be successful
05-02-2014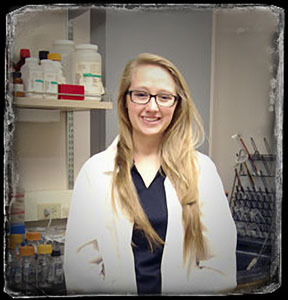 By JAKE SCHMIDT Executive Reporter
A commencement speaker for the College of Science knows what she wants and how to get it.
Melanie Bumbalough, a senior in the College of Science, will graduate this May with a bachelor's degree in biology, specializing in health and disease and cell, molecular and developmental biology.
Bumbalough came to Purdue for its science program and to pursue a career in medical research, but has since decided to become a doctor. She will attend Indiana University School of Medicine in the fall with a scholarship from the Navy, serving as an officer after her residency.
"Research definitely sparked my interest in helping people," Bumbalough said. "I like research, but I'm kind of social and after doing technique after technique in the research lab, it was a little boring for me. I started to like the problem solving more and the lab skills less."
Bumbalough has plenty of international experience to help her reach her goal of practicing international medicine. Aside from serving as president of Raising Awareness in International Medicine, she traveled to Italy on a Spring Break study abroad to shadow professionals and has traveled to Nicaragua twice on mission trips.
Jake Bezold, also a senior in the College of Science, met Bumbalough in a freshman biology learning community and traveled with her group to Nicaragua to provide clean water and sanitation education to villages.
"Melanie always puts in 100 percent, whether it's school, extracurriculars or digging ditches in Nicaragua," Bezold said. "There was a point in Nicaragua when she was extremely ill and woke up with large bug bites. Everyone was concerned for her, but she worked really hard and maintained a positive attitude throughout the entire duration."
Peter Hollenbeck, a professor in the College of Science, said he was lucky to have Bumbalough as a teaching assistant in his class for two years.
"Some smart, accomplished and dependable people can, God bless them, be a bit boring," Hollenbeck said. "Melanie is never boring. She not only became more accomplished as a biologist, but she matured as a person and as an instructor. Her development of the ability to deal comfortably with many kinds of people will serve her very well in med school and in clinical practice."
As a commencement speaker, Bumbalough has an important piece of advice to pass along to her peers.
"My research professor always tells me you can't be shy," Bumbalough said. "Just go out there. If you don't know a technique, ask someone to show you. Be proactive and get what you want."
Article published in The Exponent Friday, May 2.