Caleb Waddell is among 5 Students Who are looking to use a Purdue education to move the world forward
04-01-2014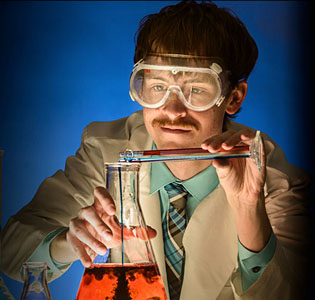 Purdue senior Caleb Waddell has experienced firsthand how one person can change the lives of others through the simple act of encouragement.
As a shy freshman, Caleb found a friend and mentor in his residence assistant (RA), who helped him to become involved in the residence hall community. This encouragement led him to become a now three-year RA for Hilltop Apartments.
A passion for helping not only has led Caleb to become a leader, but also is reflected in his hopes to work in the medical field.
Paying it forward
Caleb's RA inspired him to follow in his footsteps, and he has tried to mentor other student residents as his RA mentored him. Although he says it's sometimes difficult to know if he's really influencing his residents, he knows that some of his contributions have had a positive effect.
"It always gives me a great feeling when people thank me for something I did at the time, but the greatest reward is when people who I thought were unaffected by me come to me months or even years later to say how something I did, which I thought was no big deal, really changed their lives for the better," he says.
Creative cooking
In addition to his studies and work as an RA, Caleb loves to cook, having even considered attending culinary school. Unafraid of a culinary challenge, Caleb and his friends participated in the Purdue Student Union Board's Iron Chef Competition.
"For the Iron Chef Competition, we were not allowed to use ovens, but we could bring one small appliance," Caleb says. "I wanted to be extremely risky, so I made a chocolate soufflé inside a toaster oven. This was a last-minute idea and a switch from some other dessert we were going to attempt, so I'm glad it worked out well." What constitutes "worked out well"? Did they win? Or just "The soufflé didn't fall."?
Living curiously
The medical field usually attracts those with curious personalities, and Caleb is no exception. Eventually, he would like to pursue a career in microbiology.
He also enjoys competing in trivia contests and has shared this pastime with other students at Purdue.
"My sophomore year, I organized a trivia competition for all the residence halls to compete in," Caleb says. "I really enjoyed it because I am a big fan of trivia, and this allowed me to share that joy with others."
Taking on a challenge
Having had two majors and three minors, Caleb is not afraid to meet a challenge. Starting out his Purdue career in engineering, he switched his major to biology while also pursuing minor concentrations in forensic science, psychology and German, a language which he chose because of the challenge it presented him.
"I am simply proud to have come as far as I have," he says. "On top of all of these things, I have also worked multiple jobs to pay my way through college, and I still would not have it any other way."