Biology professor uses instructional tools to support in-class active learning
11-05-2014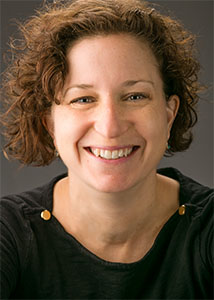 Computers may have cemented their place in the classroom, but when it comes to note-taking, old-fashioned pen and paper still reign supreme, engaging students' brains in ways the screen and keypad don't replicate, according to recent research.
So when Stephanie Gardner explains complex biological systems to students in her physiology course, she oftentimes trades her PowerPoint slides for a comfortable ballpoint – albeit, one with a technological edge – and encourages her students to do likewise.
Using the Echo Smartpen by Livescribe in conjunction with the classroom document camera, Gardner leads her students through concepts in class with detailed diagrams. Afterwards, the assistant professor of biological sciences uploads a digital record of the drawings – which include recorded audio – to Blackboard Learn for students to review. By capturing a visual and audio, the Smartpen serves a function similar to Purdue's lecture capture system, BoilerCast.
"I want my students to be following along with me as I draw and explain things, but one of the pieces of feedback I've heard in the past is that it can be difficult to capture everything that I'm saying," Gardner says. "By using the SmartPen and uploading the recordings to Blackboard, students can have the final product and review it as many times as they want. They can hear what I was saying and see what I was drawing while I was saying it and compare that to what they drew."
Gardner's active approach to lecture fits neatly into her overall teaching philosophy, which heavily values in-class student interaction. She regularly sets aside time for her 72 students to engage in round-table discussions, brainstorming sessions and case study reviews. Between discussions, Gardener uses iClicker, the ITaP-supported audience-response system, to gauge students' understanding of old concepts and to pivot their attention toward new concepts.
"I've found students respond well to clickers, and clicker questions provide good feedback for me to figure out where they are," Gardner says. "They have all the information, but clickers quickly let me see if they can apply it."
Outside of class, Gardner utilizes Blackboard Learn quizzes to give her students weekly feedback on their progress. The quizzes are low stakes, made up of multiple-choice and true-false questions, with students receiving two attempts at each quiz. Blackboard automatically grades the quizzes and records students' scores in the Grade Center.
To further strengthen the student-centered orientation of her course, Gardner went through the IMPACT program during the fall 2013 semester, working with Purdue support staff and colleagues to ensure she was using the best tools and techniques.
"IMPACT gave me time to reflect on the learning objectives for the course and explore technologies available to Purdue instructors," Gardner says. "I've always taught interactively, but I found it beneficial to meet other people who think about these things and bounce ideas off colleagues from different disciplines."
To learn more about technology tools and resources available to Purdue instructors, browse the Guide to ITaP Services, navigate to the INNOVATE Teaching with Technology website, or bookmark the Instructional Development Center blog.
Writer: Jonathan Hines, technology writer, ITaP, 765-496-7998, hines18@purdue.edu
Source: Stephanie Gardner, assistant professor of biological sciences, 765-496-2936, sgardne@purdue.edu
Last updated: Oct. 23, 2014