Biology alum Ianthe 'Cookie' Bryant-Gawthrop's Purdue Profile
04-23-2014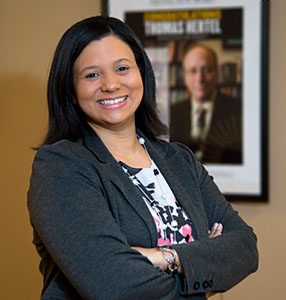 Every year, Ianthe "Cookie" Bryant-Gawthrop's research regulatory compliance team reviews at least 1,000 research agreements in various stages and helps Purdue's investigators comply with all applicable regulatory requirements.
Bryant-Gawthrop is director of research regulatory compliance in the Office of the Vice President for Research. With her three-member team, she helps researchers across campus navigate the complex waters of research compliance.
What is your team's exact role in the research administration process?
In general, we make sure the technical details of research projects are congruent with applicable regulations. We also compare what is approved in a research project with what a campus regulatory committee -- such as the IRB (Institutional Review Board) or PACUC (Purdue Animal Care and Use Committee) -- has approved.
There is a complex pool of regulations that might apply in any particular instance. For example, there are regulations related to the ethical treatment of research subjects, a number of regulations involving export controls -- which include military or dual-use research and regulations related to training in the responsible conduct of research.
At what point in the research process does your team work with investigators?
It really depends on the type of research being done, but it begins when a Purdue investigator pursues research funding. The team will ensure that all regulatory items have been approved by the right committee and are congruent with the funded project. Other times, we work with researchers and Sponsored Program Services during the pre-award and contract negotiation phases to help researchers know what regulatory parameters exist in the agreements and direct them to the appropriate regulatory committee.
Either way, we try to become involved as early as possible. We want to make compliance clear and as seamless as possible, so that it is not just something buried in the "fine print."
How do you work with researchers to ensure that their projects comply with all applicable regulations?
Helping researchers with regulatory compliance can be as simple as promoting awareness of necessary training, for example. Or, it can be as complicated as setting up a research environment that's compliant with specific, detailed export control restrictions. Each project is different, and that's part of what makes my job enjoyable.
We do our best to tailor our work to each individual research project, so each interaction is always different. We see many different categories of research in various stages each year, so we keep very busy. Our office's activities truly are a team effort. I supervise three staff members who help make everything possible -- two are devoted to export control regulations and one is devoted to working with the regulatory committees on campus.
Why do you think it's important to provide regulatory help for researchers?
Frankly, regulations can be very intimidating and can differ from sponsor to sponsor. We want researchers to have the parameters and contact information readily available so that they can feel comfortable with the terms of compliance in their awards.
How did you find yourself pursuing this career path?
I earned my undergraduate degree in genetics and microbiology, and my graduate degree in biochemistry/molecular biology, both from Purdue.
While I was doing cancer research as a graduate student, I saw a different light at the end of the tunnel. However, I still wanted to enable academic research in some way. This role keeps me engaged and involved in all kinds of scholarship. Working in this area is great because I get to keep up on all different kinds of technology and see a lot of interesting research happening on campus.
I also like to assist researchers whenever possible. When they're successful, it's extremely gratifying, and it's also a positive thing for Purdue. Anytime my team and I can help Purdue's researchers move the world forward, it's a win in our books.
Writer: Amanda Hamon Kunz, 49-61325, ahamon@purdue.edu
Article featured in Purdue Today.