2014 Biological Sciences Distinguished Alumni - Dr. Ronald Breaker
04-21-2014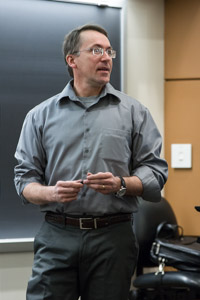 Dr. Ronald R. Breaker; PhD 1992 Purdue University Biological Sciences received the Purdue University Department of Biological Sciences Distinguished Science Alumni Award for 2014 on April 11, 2014.
The College of Science and the Department of Biological Sciences are thrilled to recognize our graduates whose outstanding achievement in professional and related fields of endeavor merit particular distinction. Dr. Breaker is the Chair and Henry Ford II Professor of the Department of Molecular, Cellular and Developmental Biology at Yale University. He is jointly appointed as a professor in the Department of Molecular Biophysics and Biochemistry, and is an Investigator with the Howard Hughes Medical Institute. His graduate studies at Purdue University were with Dr. Peter Gilham focusing on the synthesis of RNA and the catalytic properties of nucleic acids.
While on Purdue's campus, Dr. Breaker gave a seminar called "Riboswitches, Ribozymes, and the Ancient RNA World" for the Biological Sciences and Biochemistry communities. He met with several faculty members and was escorted by Dr. Richard Kuhn to accept his Distinguished Science Alumnus Award at the Spurgeon Club at Mackey Arena on Friday April 11th. Dr. Breaker is a very successful Boilermaker!