Team USA wins top team, individual honors at International Biology Olympiad
07-22-2013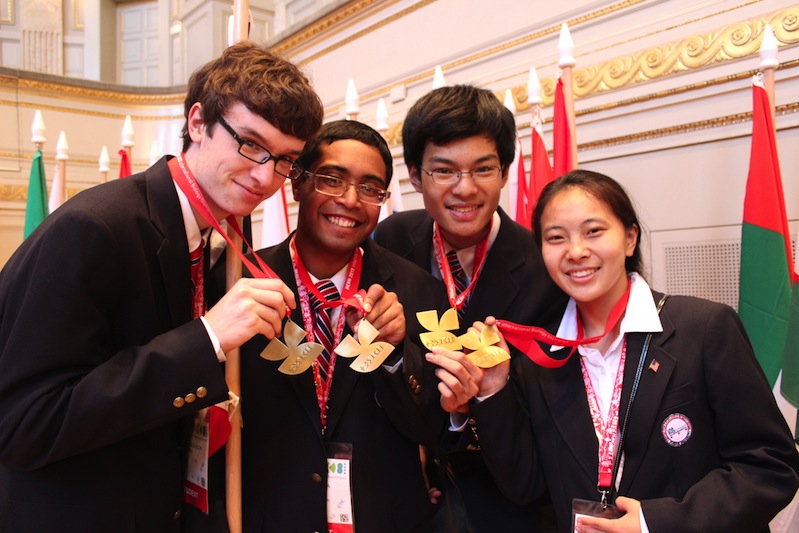 Team USA was awarded four gold medals at the International Biology Olympiad (IBO) and scored the highest overall team points, the Center for Excellence in Education (CEE) announced Monday (July 29).
Comprised of four U.S. high school students, the team joined in the world's competition for top academic achievement in biology. Gold medalists from the United States during IBO 2013, which was held July 14-21 in Bern, Switzerland, are:
* Nikhil Buduma, Bellarmine College Preparatory, San Jose, Calif.
* Lei Ding, The Charter School of Wilmington, Wilmington, Del.
* Charles Gleason, Bergen County Academies, Hackensack, N.J.
* Catherine Wu, Canyon Crest Academy, San Diego, Calif.
For the second time in Team USA history, a U.S. team member, Gleason, placed first for individual scores at the IBO. Ding was awarded second place.
"The United States was honored at the International Biology Olympiad by Team USA that garnered No.1 in the world, brought home four gold medals and had the No. 1 individual scorer in the world," said Joann DiGennaro, CEE president. "Charles, Lei, Catherine and Nikhil are role models for students who plan careers in science."
The scholars at IBO were accompanied by Kathy Frame, director of USABO at the Center for Excellence in Education; and Clark Gedney, director of the BioMedia Center for Instructional Design at Purdue University.
Every U.S. team member has medaled in the IBO since 2003, bringing home 35 gold, seven silver and two bronze medals.
Team USA is comprised of the four top-scoring students out of 20 finalists who participated in the USA Biology National Finals (USABO), which took place June 2-14 at Purdue. Nearly 10,500 U.S. students from across the U.S. registered for the USABO.
Buduma, Ding, Gleason and Wu excelled in intensive theoretical and practical tutorials, working with Purdue professors in the fields of cellular biology, microbiology, biotechnology, plant anatomy and physiology, animal anatomy and physiology, ethology, genetics and evolution, ecology and biosystematics.
At the IBO, students are evaluated on their theoretical knowledge of the biological sciences and their practical lab skills.
Frame was one of six elected members of the subgroup of Switzerland's Host Committee for the 2013 IBO. The subgroup worked in cooperation with Switzerland to review the practical and theoretical examinations that were developed to ensure the quality of questions in terms of scientific correctness and conceptual formulation.
Frame was again invited to participate in the Subgroup for IBO 2014 in Bali, Indonesia.
About the Center for Excellence in Education
The Center for Excellence in Education was founded in 1983 by the late Admiral H.G. Rickover and Joann P. DiGennaro, president of the center. The center's mission is to nurture high school and university scholars to careers of excellence and leadership in science, technology, engineering and mathematics, and to encourage collaboration between and among leaders in the global community. CEE sponsors the Research Science Institute (RSI), the USA Biology Olympiad (USABO), and the Teacher Enrichment Program (TEP). For more information about the Center and its programs, visit CEE's website, www.cee.org

Media Contacts:
Maureen Palmer, 703-448-9062 ext. 224, mpalmer@cee.org
Phillip Fiorini, 765-496-3133, pfiorini@purdue.edu
Sources: Kathy Frame, 571-228-0098, kframe@cee.org
Clark Gedney, 765-494-4921, cgedney@purdue.edu
Article originally appeared in Purdue Today on August 1, 2013.